(Kimberly (she/her) took the express train down the fountain pen/stationery rabbit hole and doesn't want to be rescued. She can be found on Instagram @allthehobbies because there really are many, many hobbies!.)
I couldn't believe that the last time there was an Atlanta Pen Show was in April of 2019. That's THREE years ago! And it was a memorable one for me, not only because it was my first Atlanta show, but it was also the first time I had ever worked at a pen show. It was a bit of a blur and three years seems like an eternity ago so I was eager to see what this year's show would be like. This also marks the first time a certain Pen Addict has been to a pen show in 2 years, so there was a [great recap] that's already posted. I swear, I wrote this before listening to the episode, but it's good to know the Bossman and I had similar thoughts about the show.
Size
It is difficult to figure out how big the show is because it is spread out over three ballrooms, of different sizes too, as well as a hallway. It felt like it was around the same size as the Baltimore Pen Show, maybe just a bit smaller in terms of number of vendors. The first room on the right as you enter is the "makers room" named for many of the makers inside like Jonathon Brooks of Carolina Pen Company as well as IronFeather Creative, River City Pens, Mythic Pens, Divine Pens, Hinze Pens, etc. In addition to those folks, Vanness Pens, Mark Bacas and Nik Pang were also in that very popular room.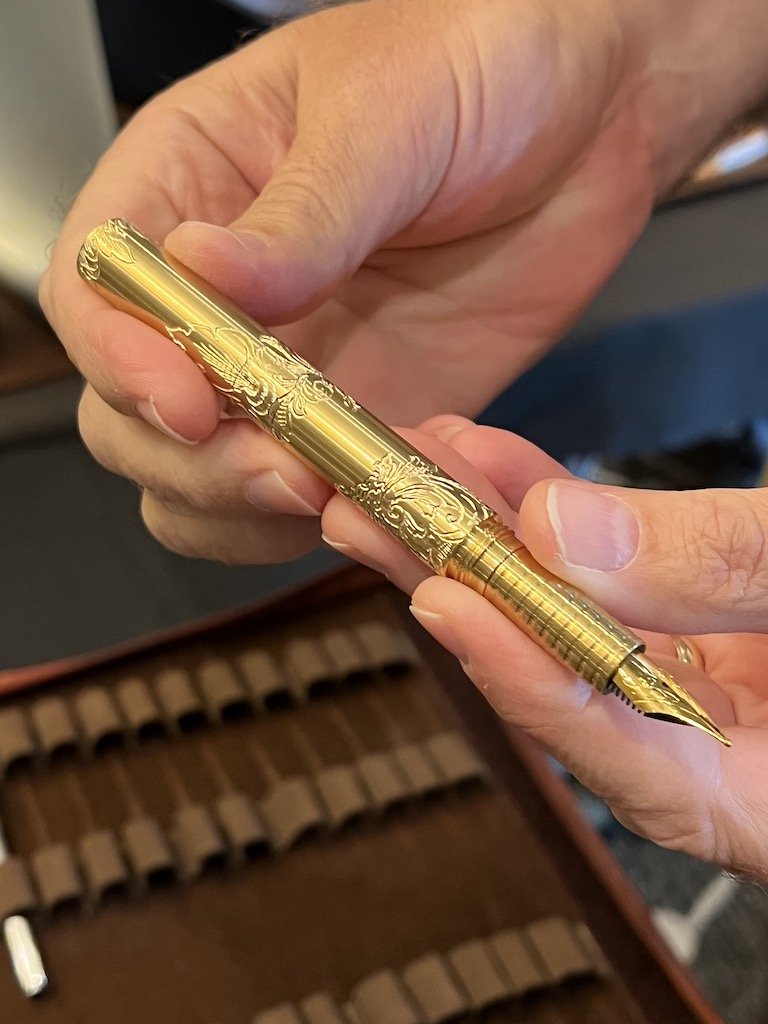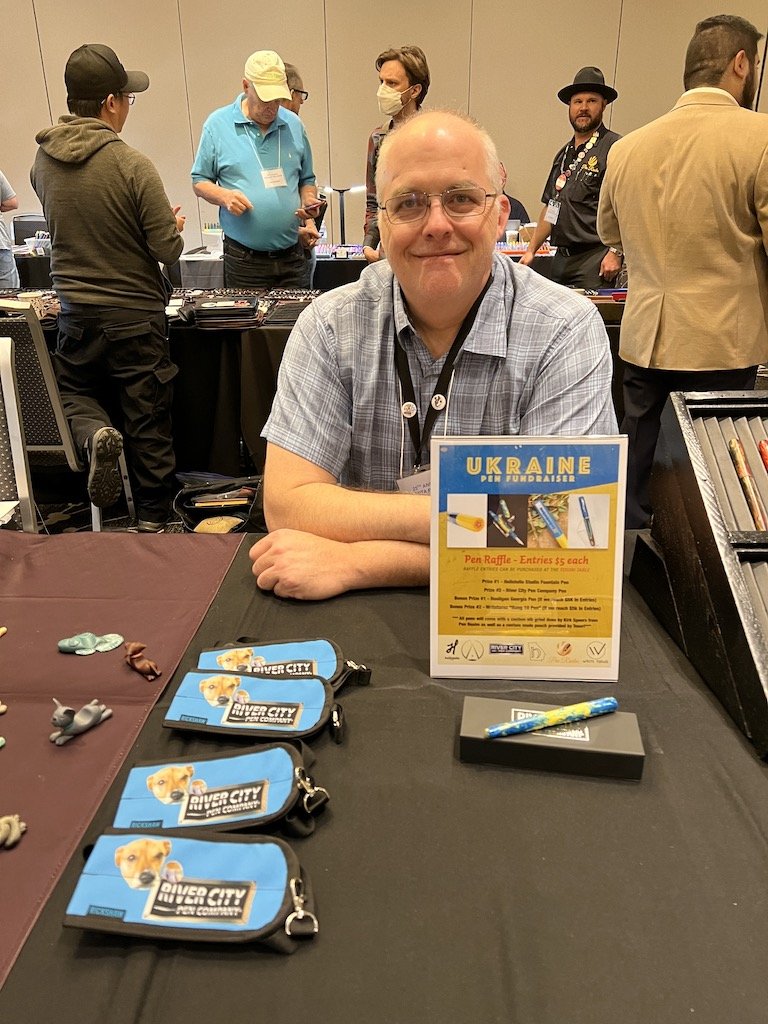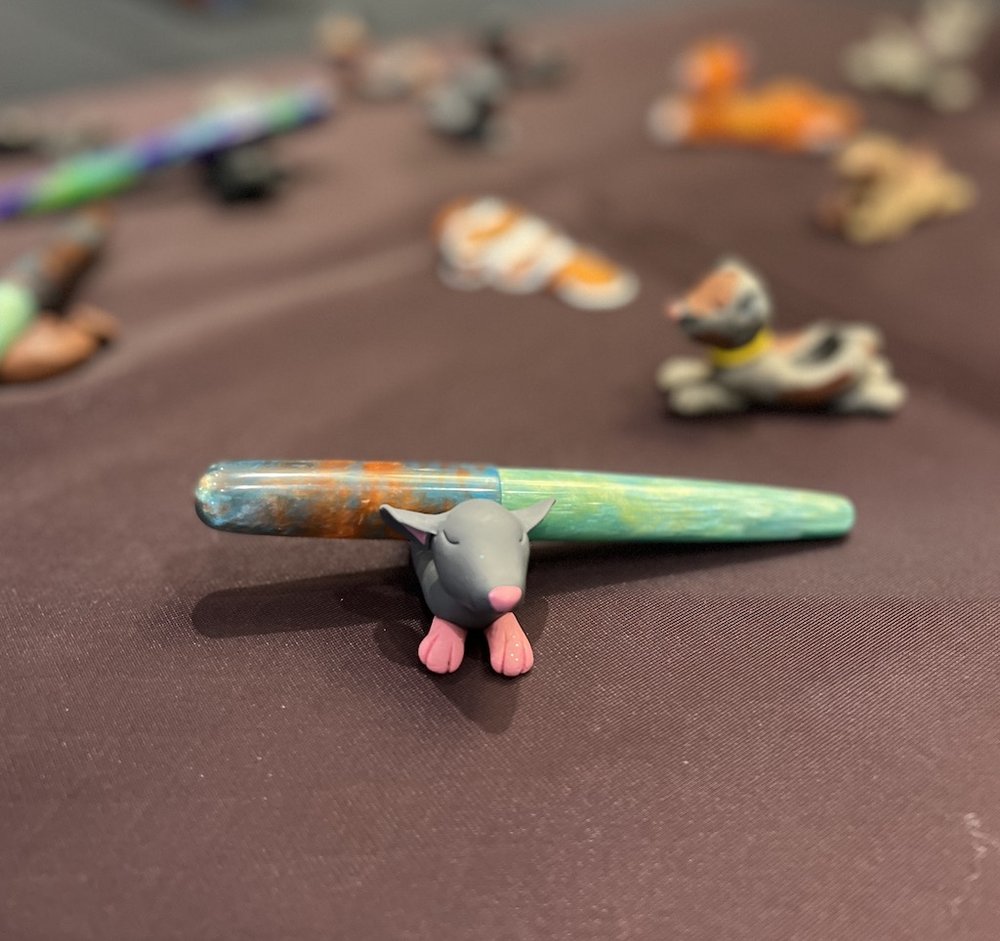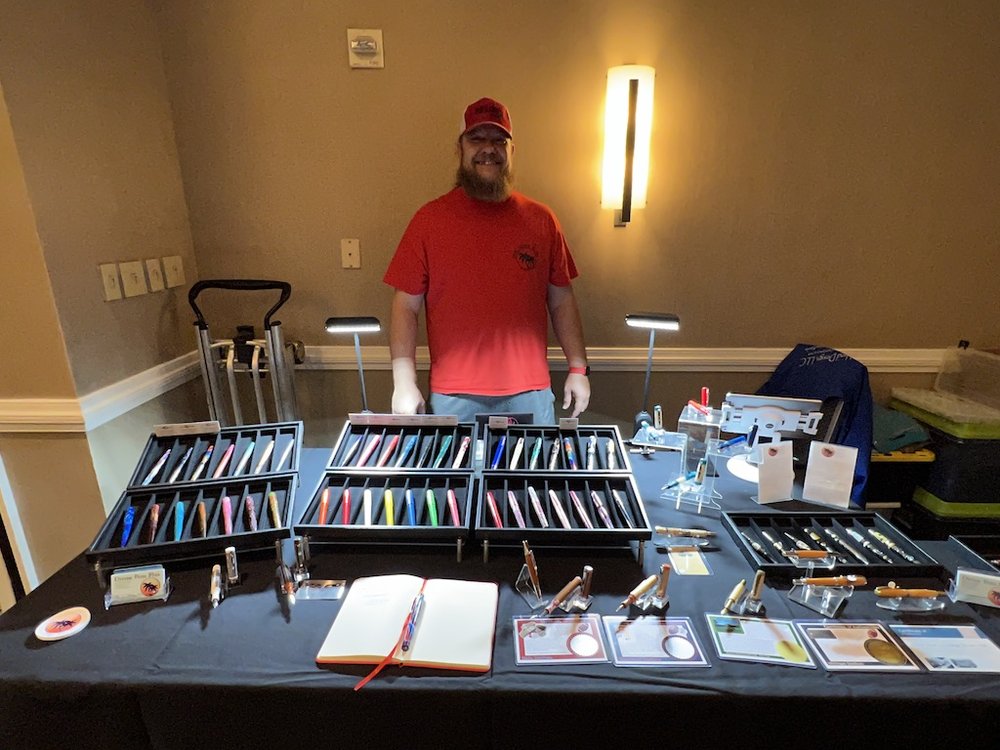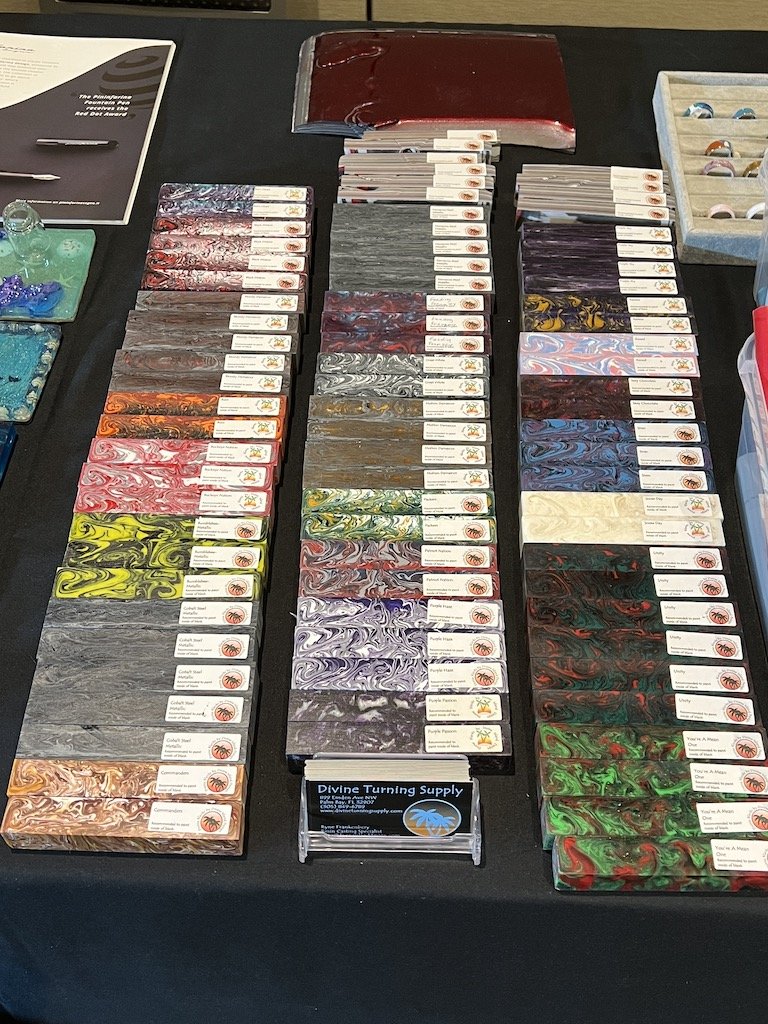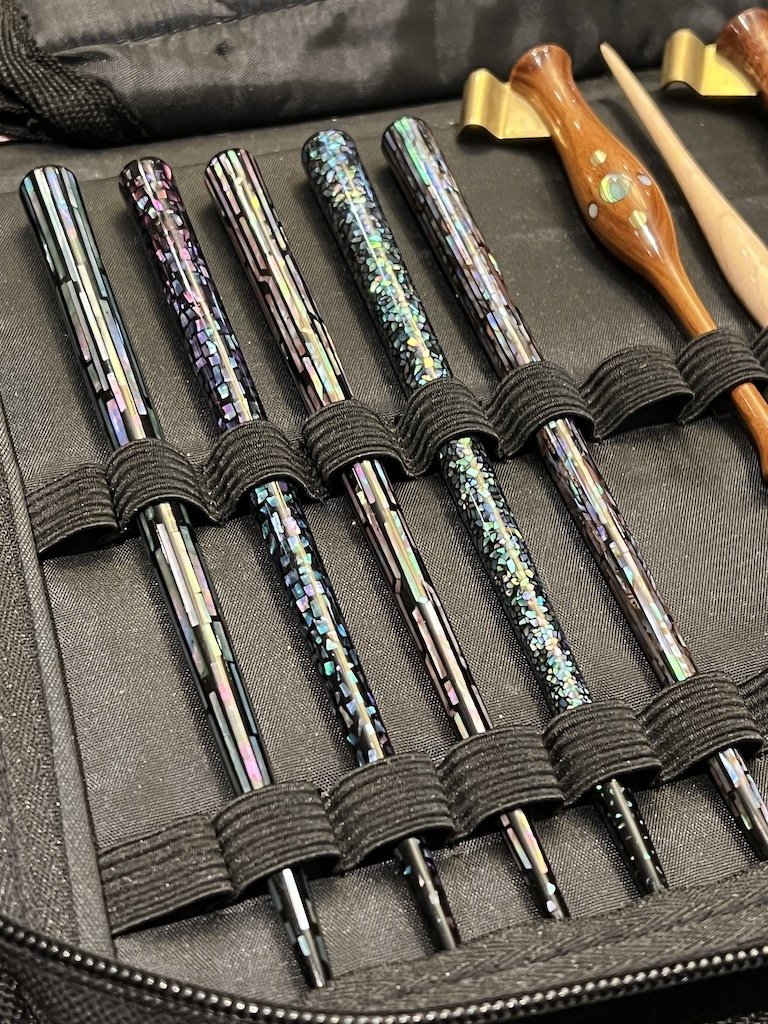 The room across the way was bigger and included some of the larger vendors like Total Office Products (show organizer Jimmy Dolive), Federalist Frank, Dromgooles and Franklin-Christoph (where yours truly was working for most of the show) as well as nib workers Pendleton Brown, Matthew Chen and Mike Masuyama.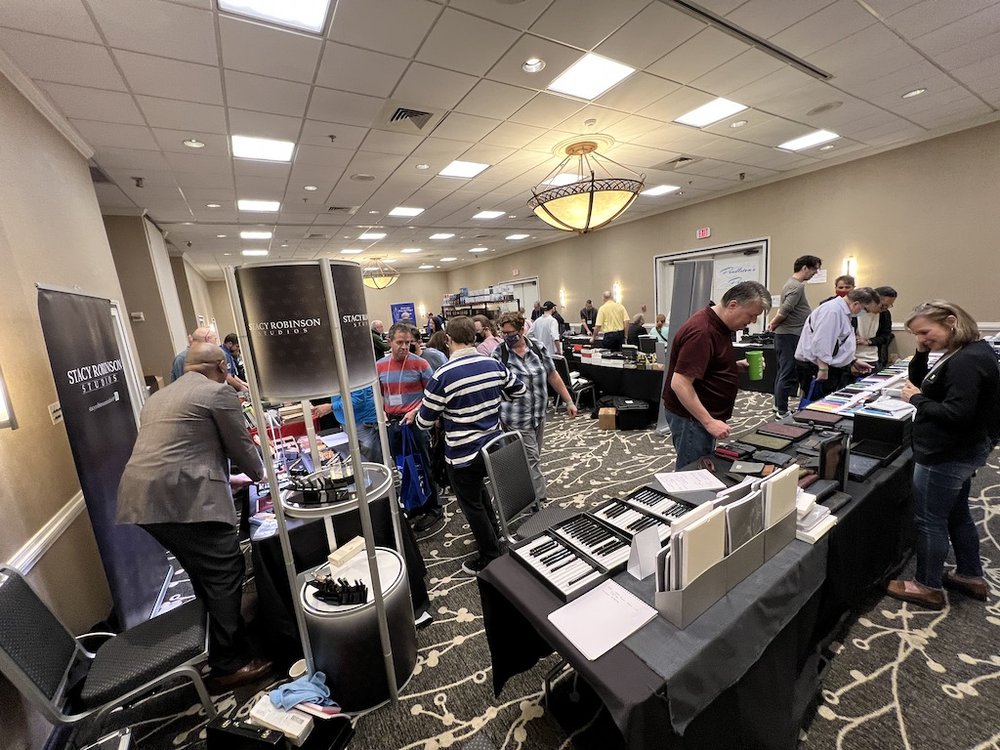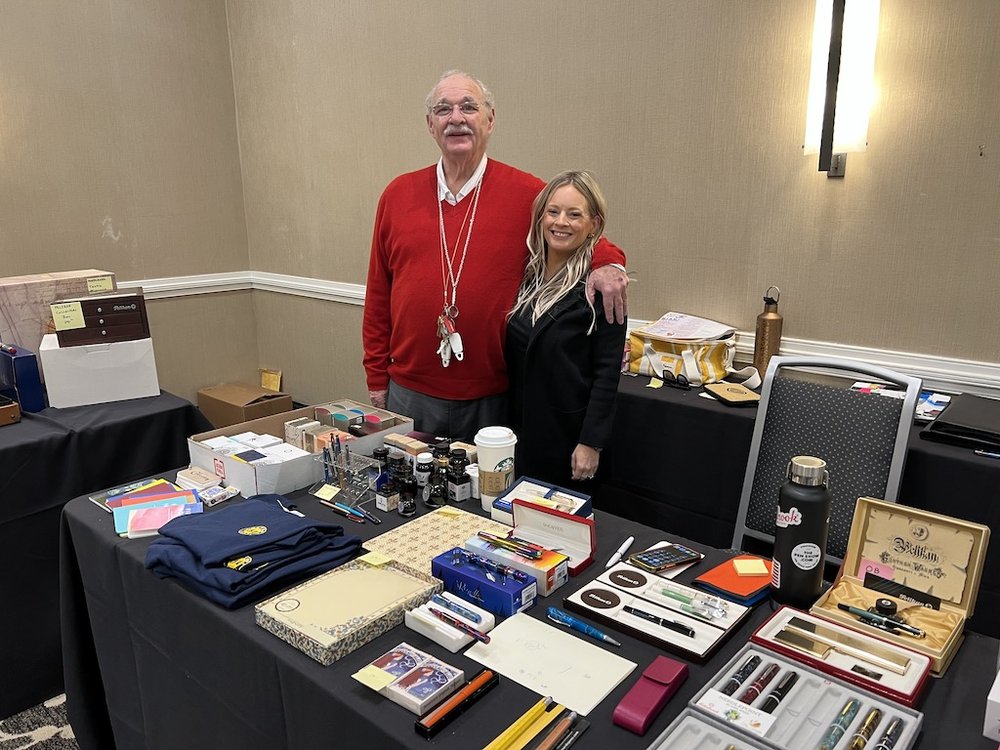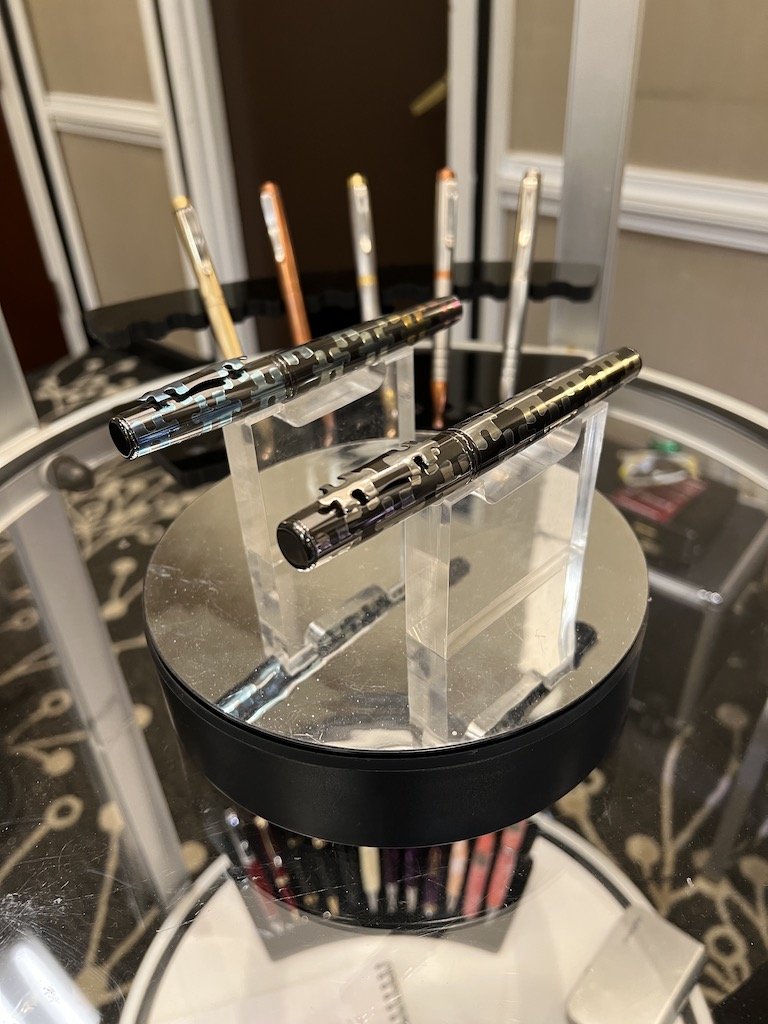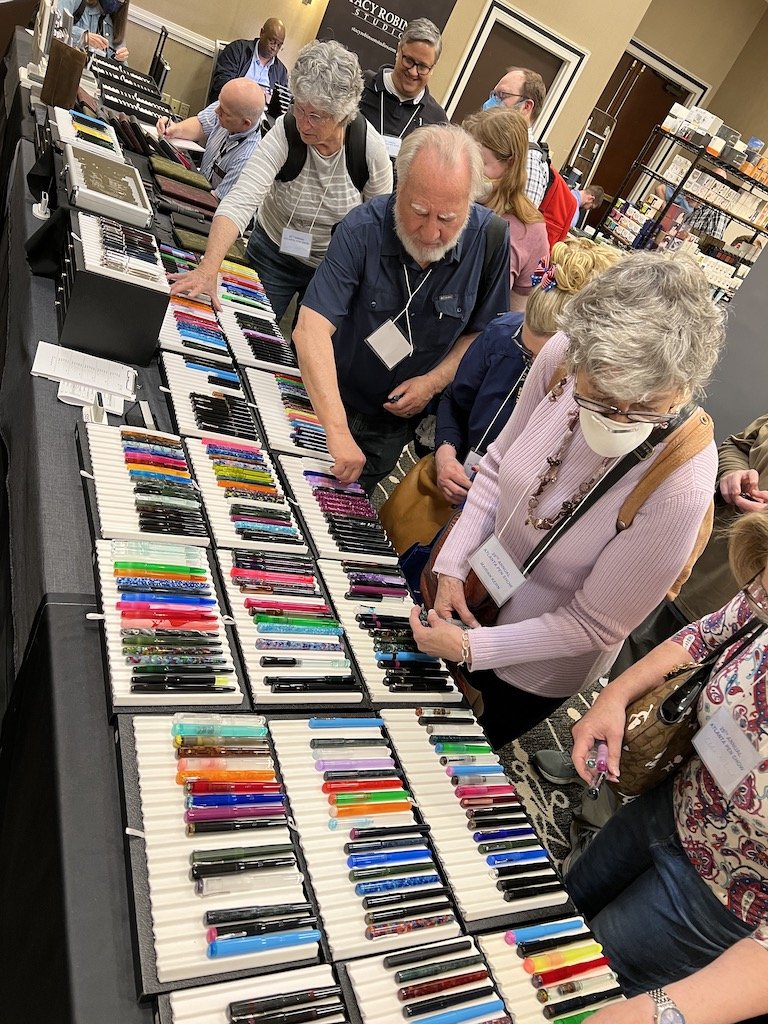 Outside, Yafa lined the hallway with their tables chocked full of products by Conklin, Monteverde, Diplomat, Pineider and more. At the end of the hallway was the biggest of the 3 rooms and housed a variety of vendors from Lemur Ink, Kenro Industries, Pilot USA, and Crazy Alan's Emporium to nib workers Kirk Speer of Pen Realm, Damien Alomar of All in the Nib, to smaller vendors like Hello Tello and Anderillium Inks. The Southeast Pen Collectors' Club also had a table and their volunteers helped out at the show all weekend. Other than Stacy Robinson of Penz By Design and Ryan Krusac, I'm not sure there were any/many other local vendors.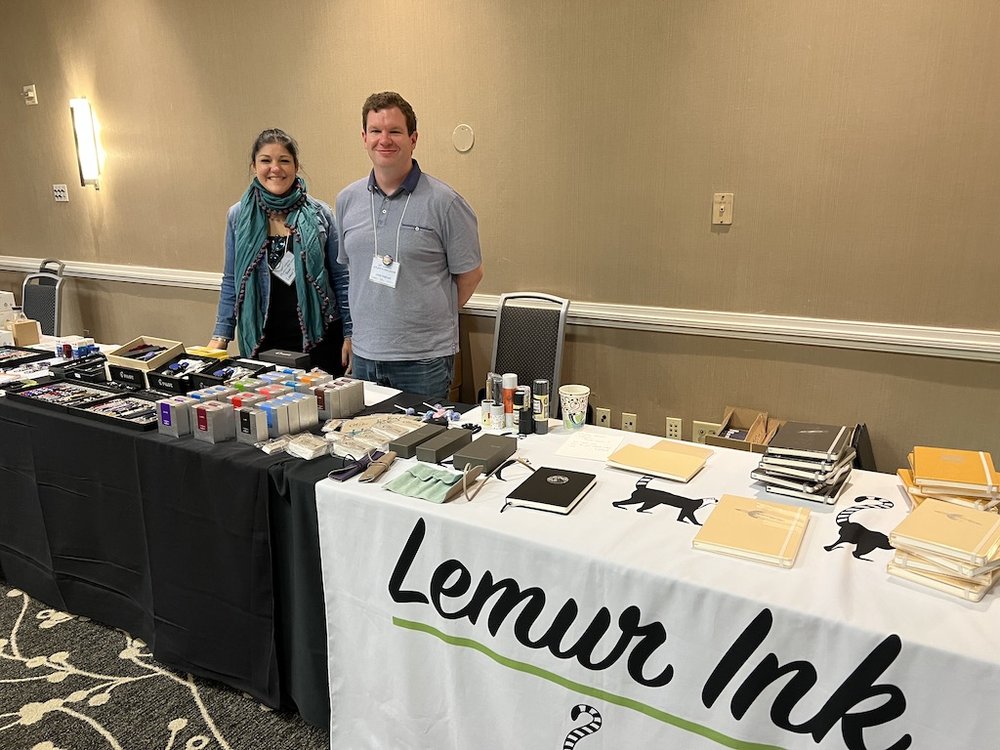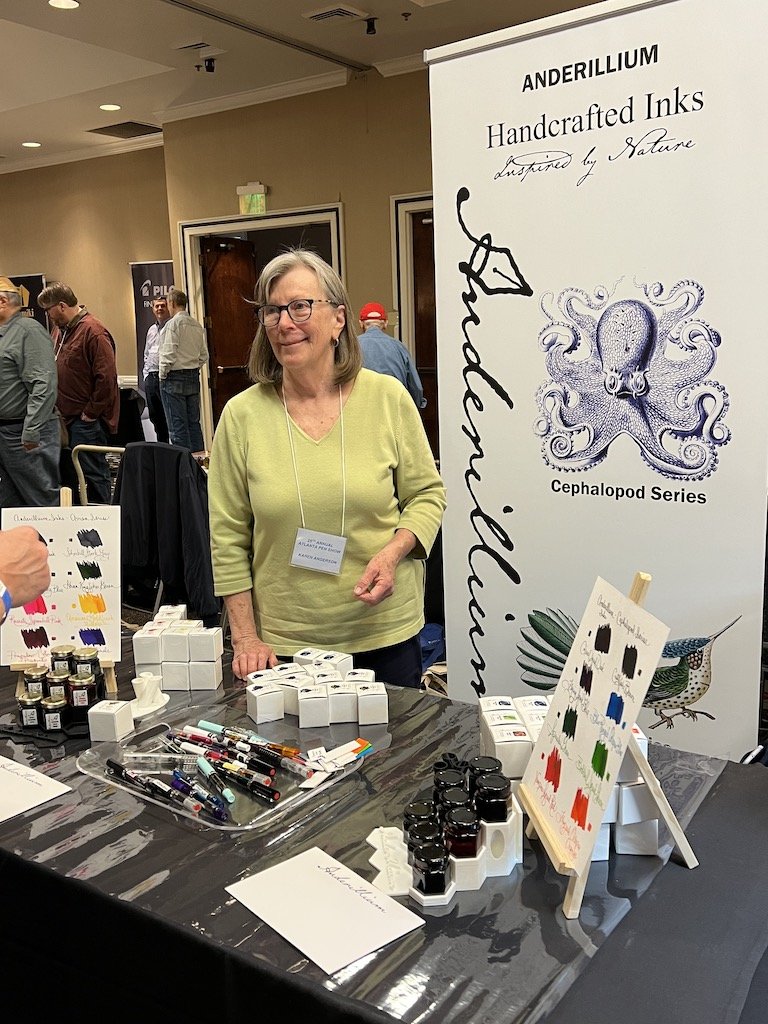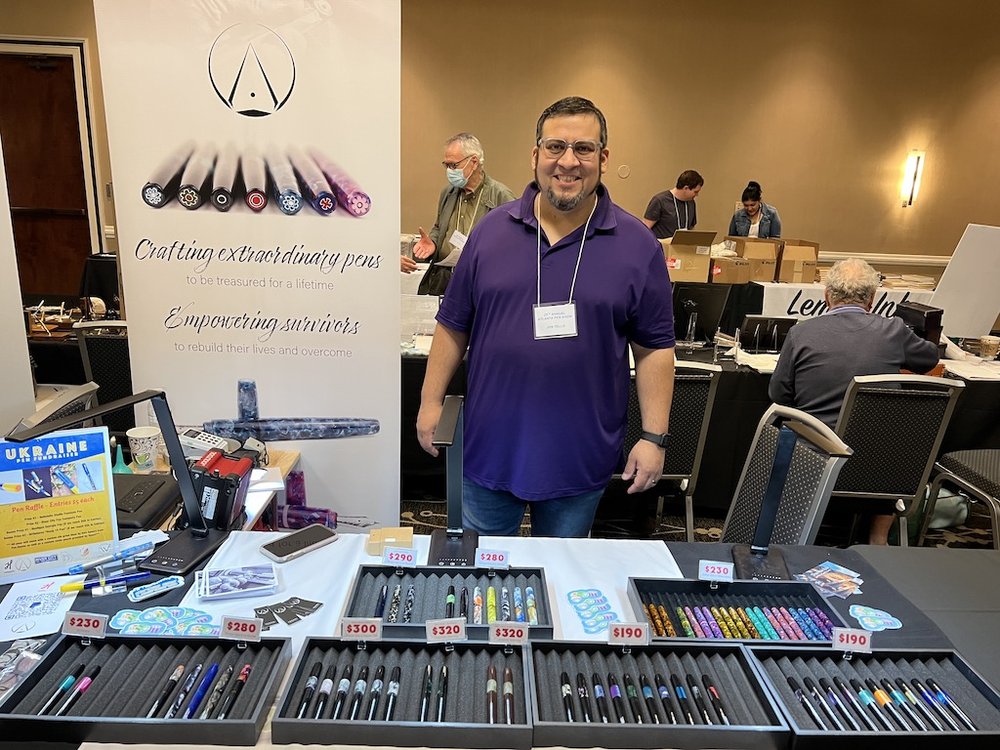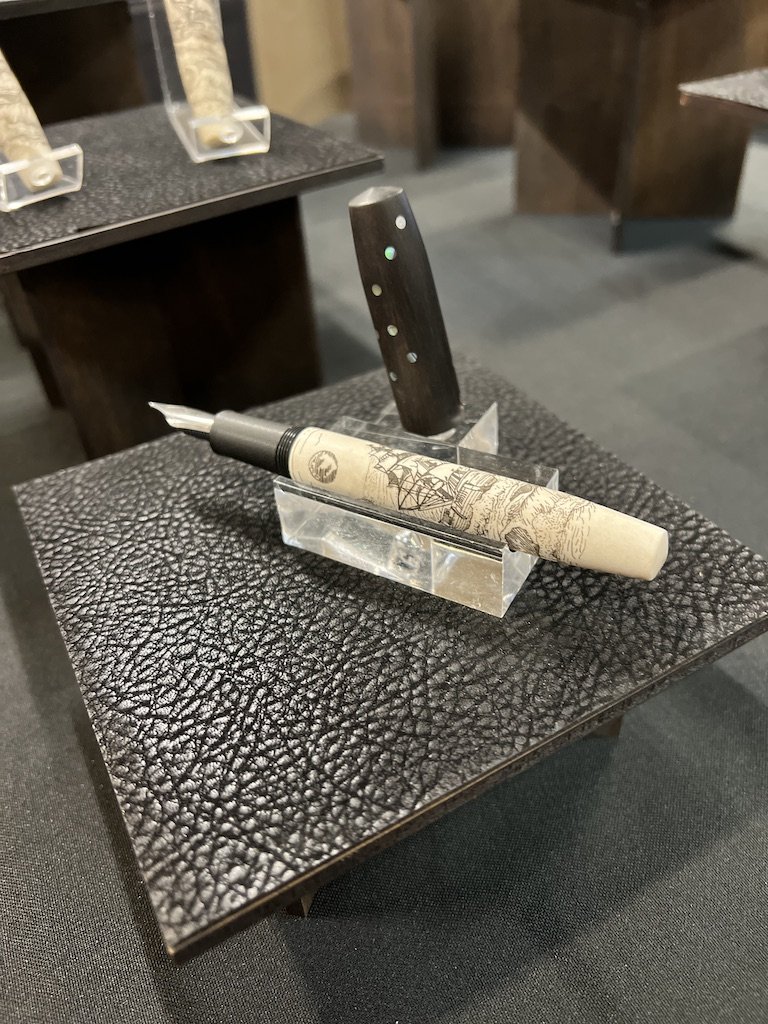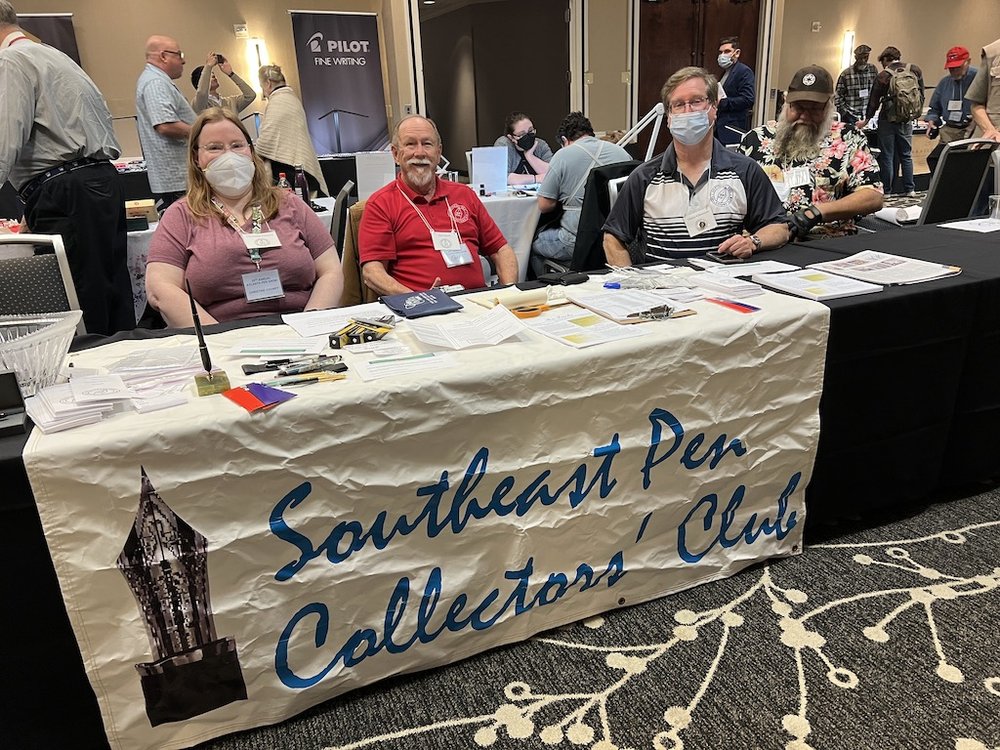 I know that Coles of London weren't able to attend as the show snuck up on them pretty quickly after Baltimore (which was two weeks later than usual and just 2 weeks prior to this show) and they weren't able to fit it in their schedule. Luxury Brands of America was also absent as were a few other vendors who typically attend. Still, It was a decent sized show with good variety as well, though I would've liked to see more vendors that don't go to other shows. I think it skewed a bit more modern than vintage though that could just be my personal bias in terms of the tables I looked at. Score - 7/10
Location
The show is not close to the airport. If you're lucky, you might be able to get away with a 30 minute drive. If you're not, well, let's just say it took me almost 45 minutes to get there and it cost me $48 (before tip). I've heard that it cost almost $100 for others depending on when they got to the airport. It was also a surprisingly expensive flight for me to get to, even on Delta, which has a hub in Atlanta. My flight ended up costing ~$650, which is several hundred dollars more than my flights to Newark, New Jersey. I'm sure Atlanta is lovely and all but it doesn't really have the draw that some of the other cities do, and coupled with the distance from the airport, it was tough to get a good score. Score - 6/10
Hotel
The Sonesta Atlanta Northwest hotel is a decent hotel, with little seating areas in multiple areas of the lobby and bar. There is also a restaurant next to the bar which I didn't eat at so I can't comment on the quality or price of their food. There is also a small shop next to the registration desk for snacks and incidentals. The hotel bar staff was generally friendly, but they seemed a bit understaffed (as in one person behind the bar) and they frequently ran out of beer on multiple nights. The hotel really doesn't like people hanging out very long after the bar is closed either. They did let us stay for a while and then would tell people to leave and then turn off the lights. The worst, however, was on Saturday night when we were all sitting around the various tables by the bar (the lights had already been turned off in the restaurant), pens and notebooks strewn about. Out of the blue, a security guard came out and said "time to go" and they didn't even give us 10 seconds to leave before the lights went out. I had a friend turn on his phone flashlight so I could put my stuff away. That was … not great and not safe.
The show rate for the rooms was $122/night (before taxes/fees), which is about average price for most pen show hotels, and parking was free. A liquor store and a CVS being walking distance across the street was also convenient for last minute goods like drinks or toiletries, etc. Because of the distance from the airport and the less-than-friendly late night treatment, I gave this a lower score. Score - 6/10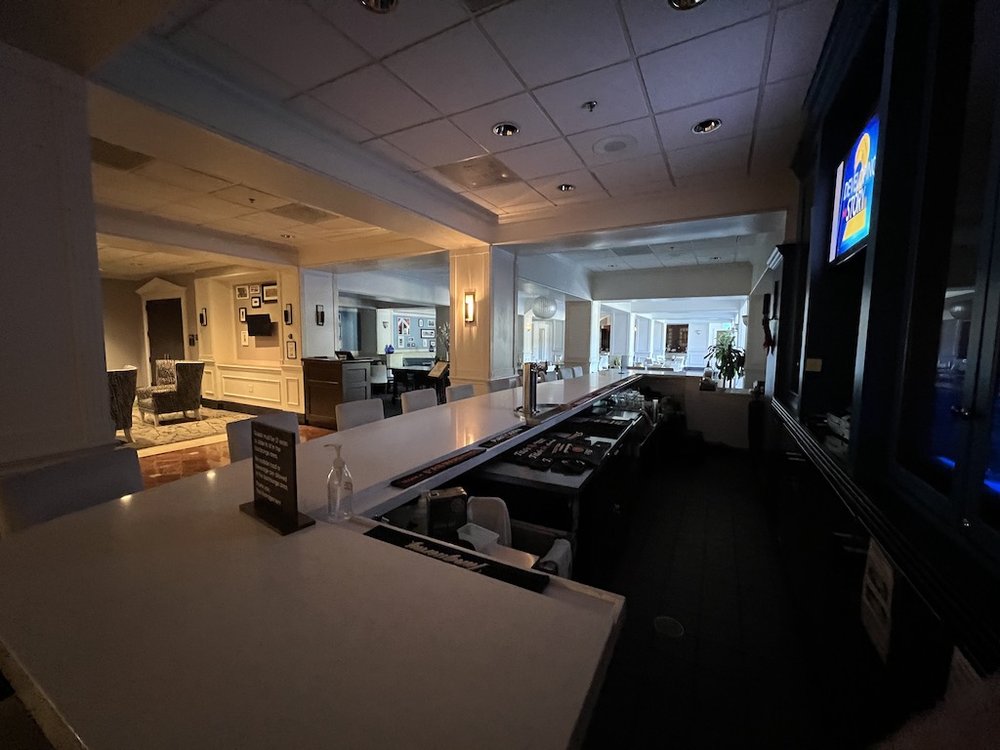 Tickets
Tickets for general admission were $10/day and children under 12 are free. Those wanting the Weekend Pass, which included early admission, could get it for $50. Weekend Pass holders got to attend any Thursday afternoon trading (I didn't see anything going on other than setup), 3 hours of early entrance on Friday (though many vendors were setting up during those hours) and 1 hour early entrance on Saturday and Sunday. They were also treated to a Friday night cookout by the pool (I snagged some food but stayed at the bar with newly made pen friends). Tickets were only available at the registration desk and could not be purchased ahead of time. Still, good prices for general admission and a decent price for the VIP pass. Score - 8/10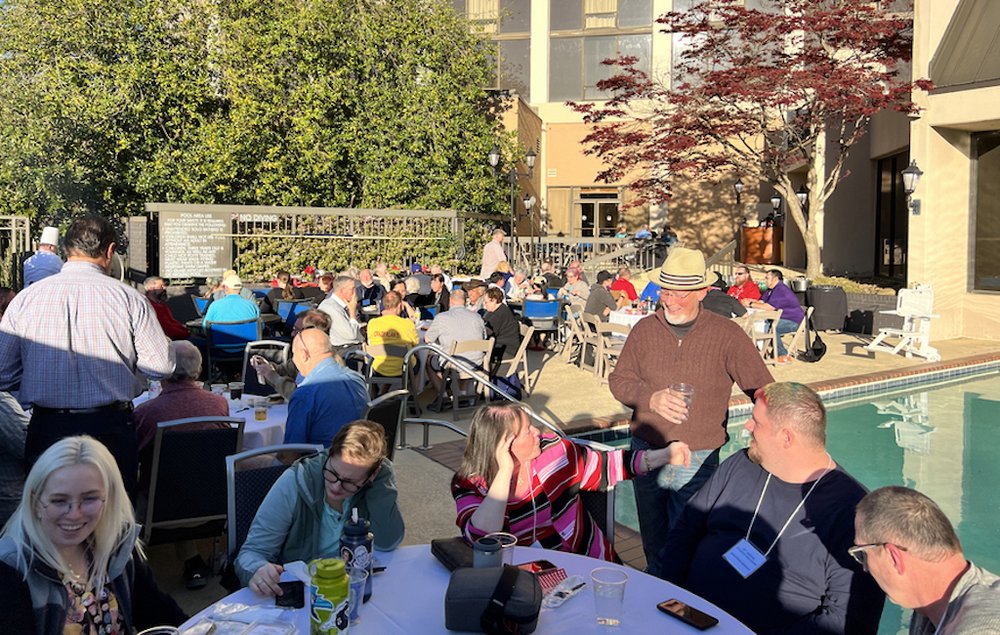 Classes/Seminars
There was a free Fountain Pens 101 seminar on Friday afternoon, led by Lisa Vanness. There were also two paid classes this weekend, one on Saturday and one on Sunday. Both were writing classes (cursive handwriting and Copperplate calligraphy). I would've liked to see more non-writing classes or seminars, but having any seminars/classes is better than none! Score - 7/10
Nib Worker Availability
Considering this wasn't a huge show, there were still quite a few nib workers to work their magic on your pens. Need nib work done? Well, you came to the right place! There were 6 nib workers at this show (in first name alphabetical order) and that didn't include those at Franklin-Christoph.
The nib workers were spread out between the three ballrooms. I was particularly excited to see Mark Bacas, whom I hadn't seen in ages, and to meet Pendleton Brown, whom I had heard about throughout the years. Score - 10/10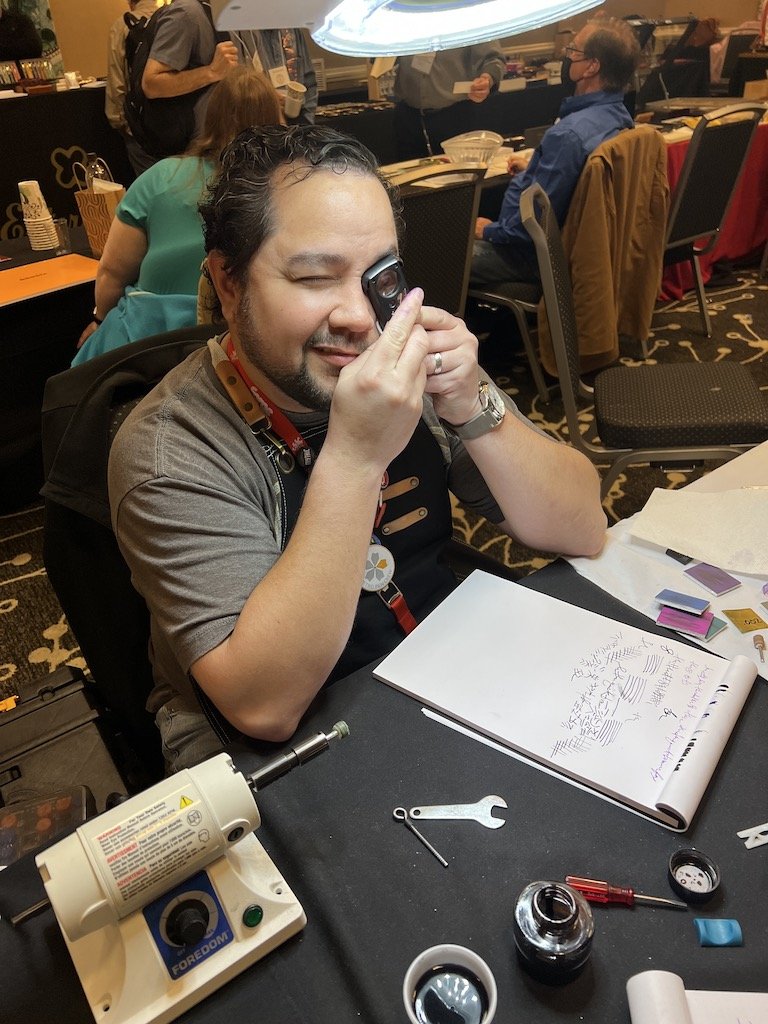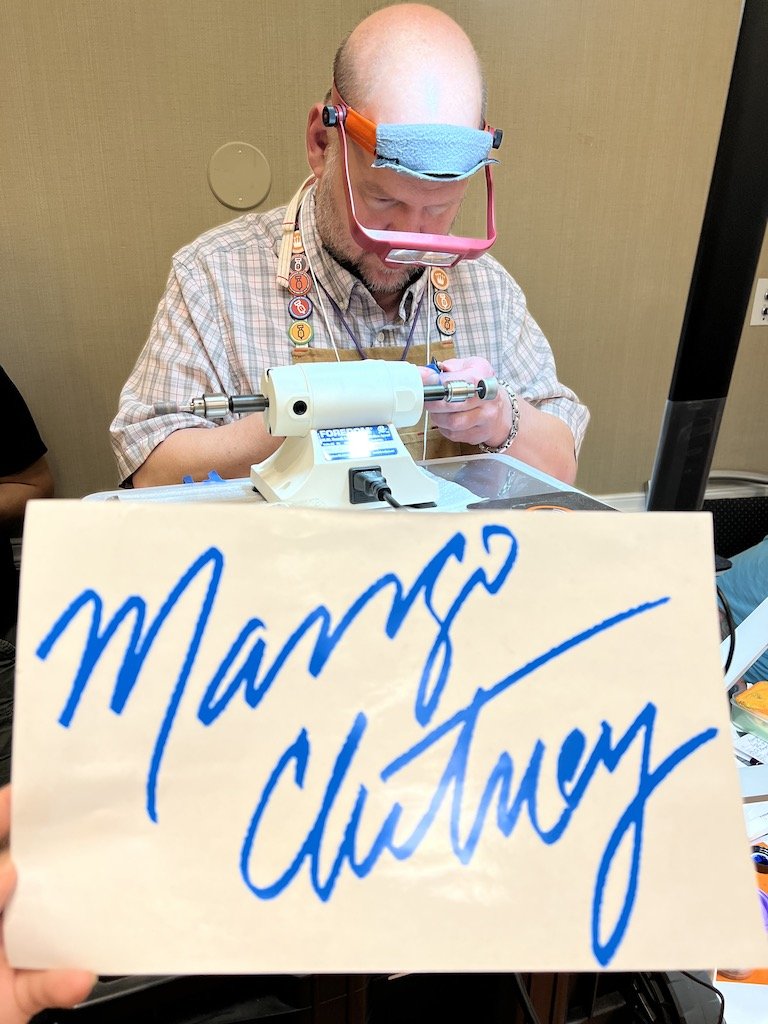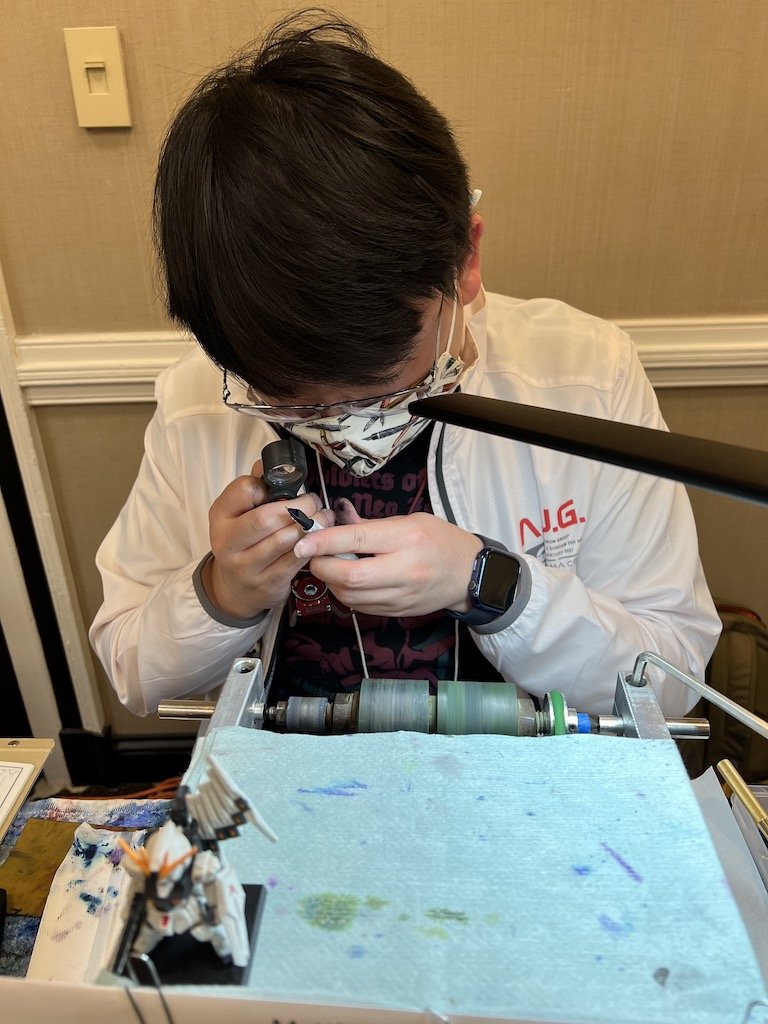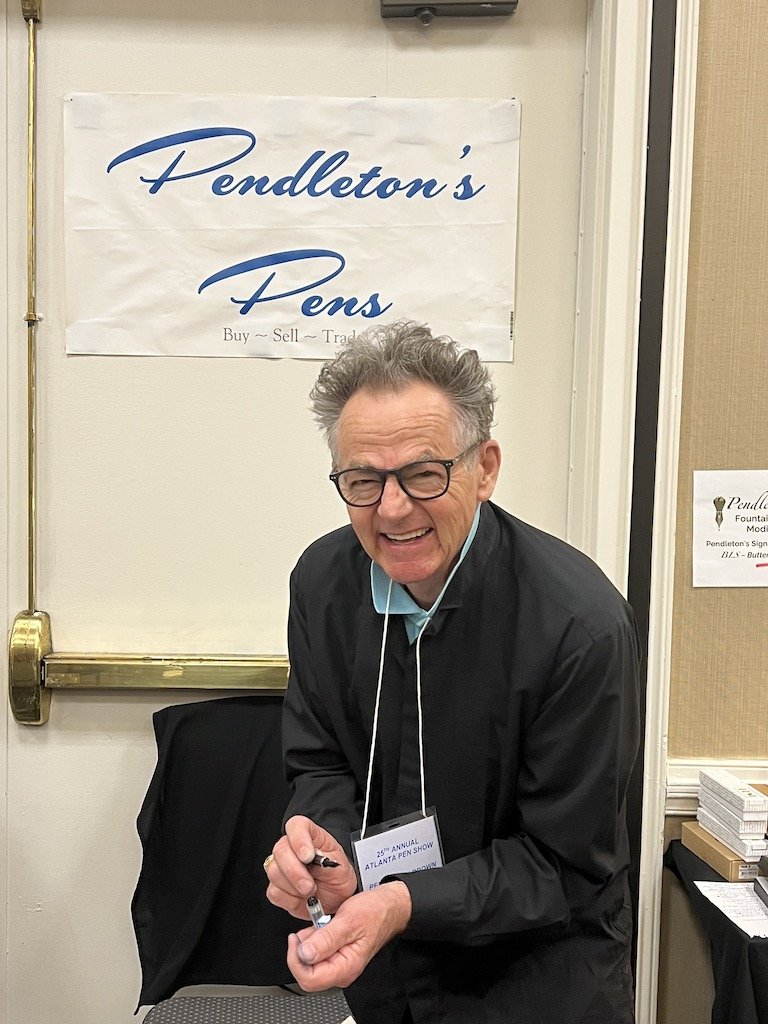 Overall sense/vibe
As I mentioned before, there are three different rooms for this pen show. The makers room is a small room and ends up being very crowded, especially with the ever-popular Vanness Pens table. The other two rooms weren't as crowded but all the rooms had their HVAC challenges. Some rooms were stuffy and hot, while others were borderline freezing. It feels a little weird to have so many rooms to go through and I can imagine getting overwhelmed quickly, especially if the small room was the first room you went to. The large room felt very spacious and probably would've benefitted from having a few folks move over from the small room. The Southest Pen Collectors Club had friendly volunteers who checked in on vendors all weekend and were available to answer questions for attendees.
On the vendor side, while I don't have sales numbers or anything, I think most vendors did a decent amount of sales, but it definitely felt much slower than the only other Atlanta show that I went to in 2019. Sunday was REALLY slow, with the show ending at 5pm but most vendors started packing up at 3:15. It was pretty much empty by 4:30 pm that day. Other than getting kicked out by security, the after hours vibe was strong. It probably helped that a certain OG Pen Addict was in attendance (his first show in 2 years!), but it was still going on the rest of the weekend after he left. Lots of pen people hanging out at the bar, on the couches, by the restaurant. People passing pens around and enjoying each other's company. Good times indeed. I'm not sure it was anything the show did per se that made it such a fun and friendly vibe, but I had a great time seeing friends I hadn't seen in 2 years (including the Bossmand himself) as well as finally meeting some Pen Addict Slack friends in real life.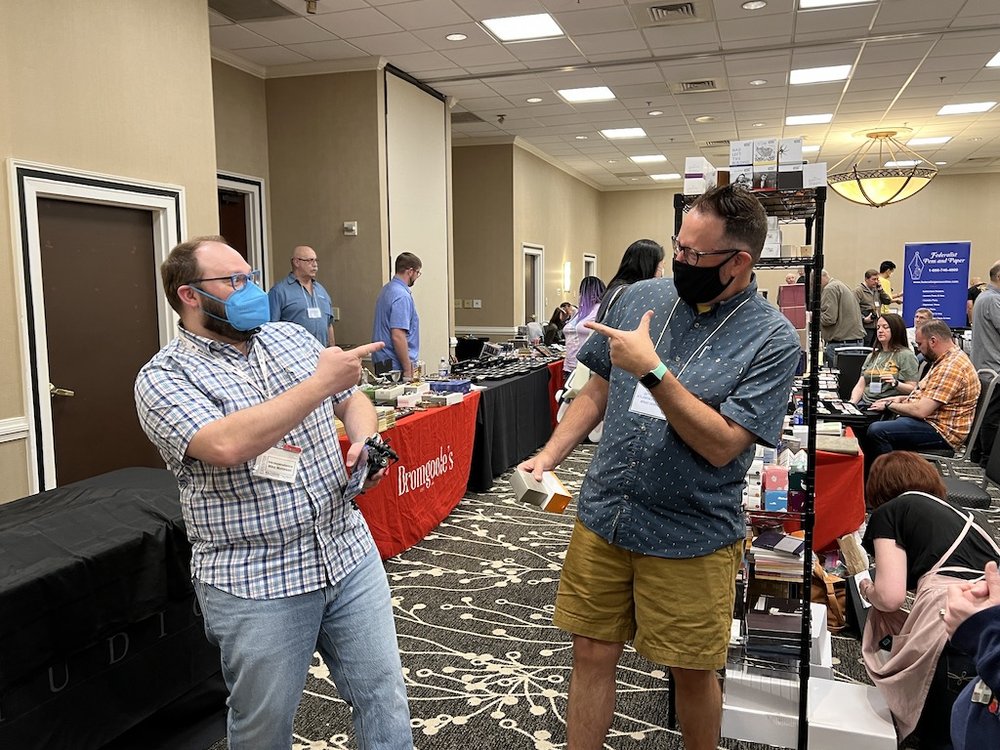 This one is tough to score because of the slightly odd 3 room layout, the inability to gather late into the night and the somewhat slower pace/lower attendance. But the fun times with new and old friends, that really made up for it. Score - 7/10
Food
As mentioned above, there is a restaurant and bar that serves food, though I didn't have any meals here. I heard their pizza was pretty good and the food they made for the cookout was fine. The hotel is next door to a Waffle House, and there are a few food options nearby. Across the street, you could go to a Publix supermarket (where I got yummy sushi a couple times), sandwich shop and Japanese restaurant and on the other block, there was a good pizza/brewery where I ate dinner twice. And there was a Starbucks at the corner too, so my caffeine needs were met. Even though there weren't that many options, it was nice being able to walk across the street to get something other than hotel food. Score - 7/10
After hours/socializing
I enjoyed my time hanging out at the bar, at the couches or at the tables near the restaurant. Aside from vendors (and I guess I count as one), I think most of the attendees were local-ish (as in within 1-3 hours driving distance), though there were some that drove 6-9 hours to go to the show. I'm not sure why there were so many people that traveled to this show – maybe it was the allure of seeing Mr. Pen Addict himself? Maybe it was the fact that this was the first Atlanta show in 3 years? I don't know but it was a great group of people to hang out with after the show was done for the day. I didn't care for how they kicked us out of the bar area, especially since this gal is used to being up til 2am at pen shows, but that's about the only major ding on this score. Score - 8/10
Other
The Atlanta Pen Show is typically held around the first weekend in April, which is often right around spring break as well as The Masters golf tournament. Meaning, flights to the show can be expensive and airport lines can be long (thank goodness for TSA Pre). The weather can also be unpredictable this time of year. In 2019, there was a crazy thunderstorm on Saturday night. This year, it was very windy on Thursday - my bumpy plane ride ended with some fishtailing upon landing and several friends who drove to the show mentioned that it was not a pleasant drive fighting the wind. With this past Sunday being Palm Sunday, the attendance was pretty slow all day so vendors packed up a couple hours early.
As far as I know, there weren't any thefts at the show but I did hear of two folks who tried to steal some inks at the Vanness Pens table. Apparently, one of them was a known person who has stolen from vendors at this show in past years. As disgusting as I find this behavior in our community, it was nice to see vendors rapidly spreading the word to other vendors and keeping an eye out for each other.
There were no mask requirements for the show. I would say maybe ¼ of the folks (both vendor and attendee) wore masks during the show and even fewer during after hours. As the COVID pandemic continues to evolve in different ways in different places, I will continue to comment on my observations on masking, while not making any judgments or impacting scores unless it affects the show in some way. I still prefer to mask as much as I reasonably can, but my mask also came down a bit more when hanging out with people I knew. Just stay safe and do what works best for you, while respecting that others may not feel the same way you do. Alright, enough about that. Score - 7/10
Report Card
0-50 Oof, do not attend
51-70 Show is alright
70-80 Show is solid
80-90 Show is pretty darned good!
91-100 REALLY good show and not to be missed
The 2022 Atlanta Pen Show scored 73/100, which sounds like it's lower than all the raving I've been doing about the show. For me, a lot of it boiled down to the location which wasn't a big destination, was expensive to travel to, and the hotel was not close to the airport. The hotel kicking folks out of the bar area by turning off the lights without warning was the other kicker. Despite that, I had a great time, met and hung out with a lot of people, and still managed to do some damage to my wallet. Still, it really was a great show and I can't wait to come back next year.
Also not pictured are the selfies with pen friends I hadn't seen in two years as well as meeting several Pen Addict Slackers for the first time. All in all, a great weekend with pen friends old and new! My wallet may be empty but my heart is full. Until the next pen show (which would be Chicago next month for me), stay safe and stay inky!