IKD designers know their way around IKEA kitchen design obstacles.
School is in session! This class, ….um….blog is called "Problem Solving 101," which highlights some of the most common design challenges faced in IKEA kitchens. And who better as teachers than our team of certified kitchen designers who'd like to educate you on how to solve those challenges?
Today, you'll learn how we use our signature cabinet "hacks" to create custom blind cabinets for corner cabinet applications; how to modify 12" IKEA base cabinets to fit a smaller space (storage for baking sheets, for example); and how to properly incorporate base cabinets for 36"(W) apron front sinks and 36"(W) range top applications.
We use these cabinet modifications in many IKEA projects and they are suitable for any style space and budget. That said, if there's a design element that you want and aren't sure how your current kitchen layout will accommodate it — or you're just curious about how IKEA kitchens work — then you've come to the right place.
Let's take a look!
Organize Your Kitchen with Blind Corner Cabinets
One of the most common design challenges we see is limited space for IKEA corner units.
Notably, IKEA only has two corner units available — the 47"(W)x24"(D)x30"(H) corner base cabinet with pullout fitting; and the 38"(W)x24(D)x30x(H)" corner base carousel. "If we don't have the available space for these units, the solution is to create a custom blind cabinet," says IKD designer Florence.
But what is a blind corner cabinet? Basically, when two base or wall cabinets meet in a corner, one is partially hidden by the other. This partially hidden cabinet is called a "blind" cabinet. Blind corner base and wall cabinets are actually some of the most common ways to design a corner, and it provides the designer with an opportunity to showcase his or her design creativity as well (by designing the custom blind cabinet). This is very useful for smaller spaces. So, since IKEA only offers a 47"(W) base cabinet blind corner unit, our hack reduces it to 36"(W) for tight corners.
Other solutions here include pullouts, shelves with adjustable shelves, or Lazy Susans, for instance. The IKEA UTRUSTA pullout insert, for example, allows you to maximize your kitchen storage space and keeps everything organized and easy to access. Your pots and pans can then be stored and concealed in your IKEA SEKTION base cabinetry and readily available when needed. It also has two adjustable shelves with a maximum load per shelf of 33 lb. Or, consider the IKEA UTRUSTA corner carousel (aka as Lazy Susan) which is perfect to store pots, pans or dry goods.
The benefits here are significant. Not only will storage be more organized, but your entire kitchen will become more efficient plus it eliminates you having to bend over and crawl into your base corner cabinets to reach the one pot you need. Simply by combining IKEA's SEKTION cabinetry framework with the UTRUSTA corner carousel, your layout will be much more organized and ergonomic.
Modify IKEA Cabinets For Extra Storage
Similarly, IKEA's narrowest cabinet is 12" (W), and sometimes the layout calls for a smaller cabinet.
"In this situation, we use a 12"(W) cabinet and cut it to size, then we rotate a drawer front and use it as a door," explains IKD designer Merari. To that end, custom width base full-height door cabinets instead of extra-wide fillers concealing dead spaces are a great way to solve this issue.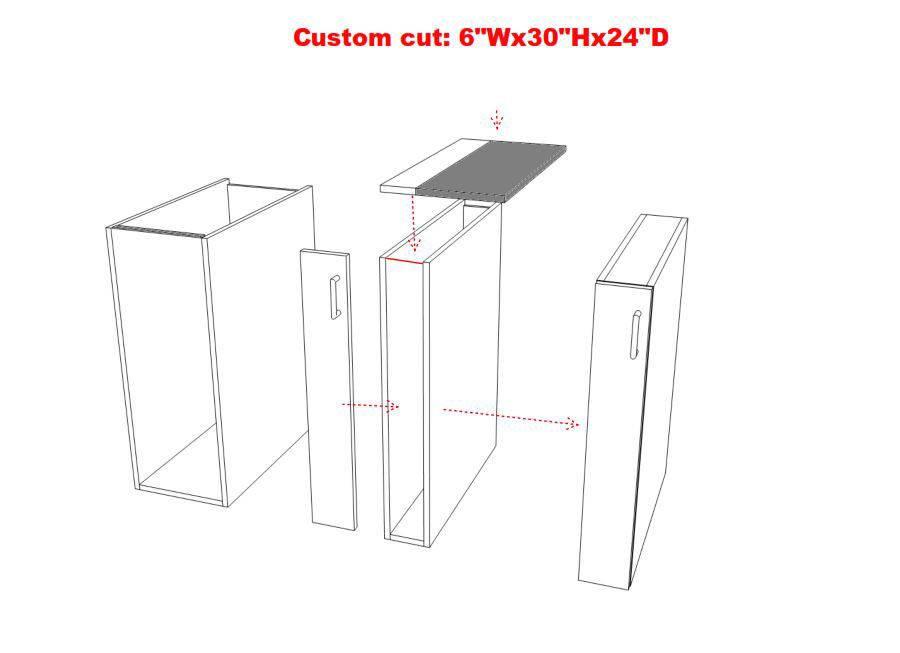 Specifically, IKD takes an IKEA low-drawer front and places it vertically. Since the low-drawer front is 5" high, when you rotate it 90° you then have a 5" wide door. [Note: IKEA does not sell a 5" wide cabinet, but there are companies that do provide solutions for big fillers and small spaces. The Rev-A-Shelf Filler Pullout Organizer with Ball Bearing Soft-Close Sink & Base Accessories is available for 3" and 6" base cabinet applications and comes fully assembled.]
Merari adds this is a valuable space for custom spice (https://inspiredkitchendesign.com/upgrade-from-the-inside-out/) rack pullouts or extra storage for baking sheets — perfect for the avid chef or baker in your family.
Get Your Apron Front Sink To Work For You
The next common challenge applies to cabinet applications with farmhouse apron front sinks (sinks which protrudes from the front of the cabinet and countertop).
IKEA's 36"(W) sink cabinets are internally, only 28.5"(W). So if the sink is 36"(W), then the cabinet needs to be modified to fit that space. IKD designer Meyer notes: "Due to the weight of the sink an internal structure also needs to be built, and since the sink will not fit inside the cabinet, the side panels of the frame cabinet need to be cut. The amount to be cut will be determined by the height of the sink."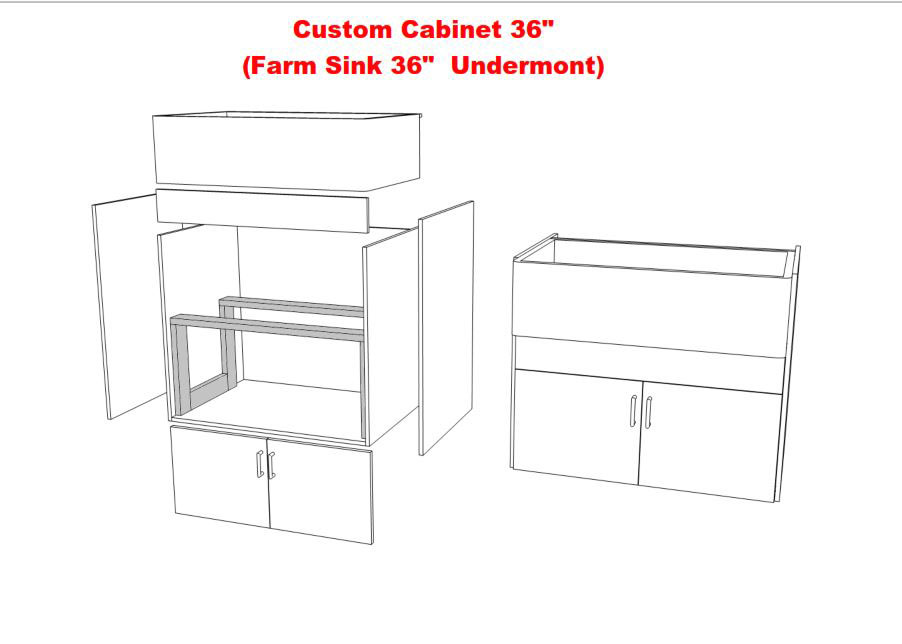 He continues: "We then include panels for support on the side of the cabinet and a filler between the doors and the sink."
Another design consideration is the height of the sink. Most apron sinks are 10" high and our apron sink cabinet hack uses 15"(H)x24"(W) cabinet doors and then secures a 5" high panel in between the doors and the sink as a filler. The total cabinet height will then be 30." This hack works very well with IKEA's HAVSEN apron sink in white, for example. Meyer adds that this hack is an excellent way to ensure that your sink works — both stylistically and functionally — as well as it can in your IKEA kitchen.
Make Your Range Top Fit
The same challenge holds true with IKEA's base cabinets for a 36"(W) range top. Again, the internal dimension is 28.5"(W) and an internal structure must be built for support.
So, you guessed it, the same hack works here too. In fact, these customized or hacked base cabinets are also ideal for front-controlled cooktops because they share the same features and must sit at about ¾ " above the countertop. IKD designer Rich, explains: "Here, cabinet side panels will need to be cut to size; then cover panels will be included for support and a filler will be added between the doors and the range top."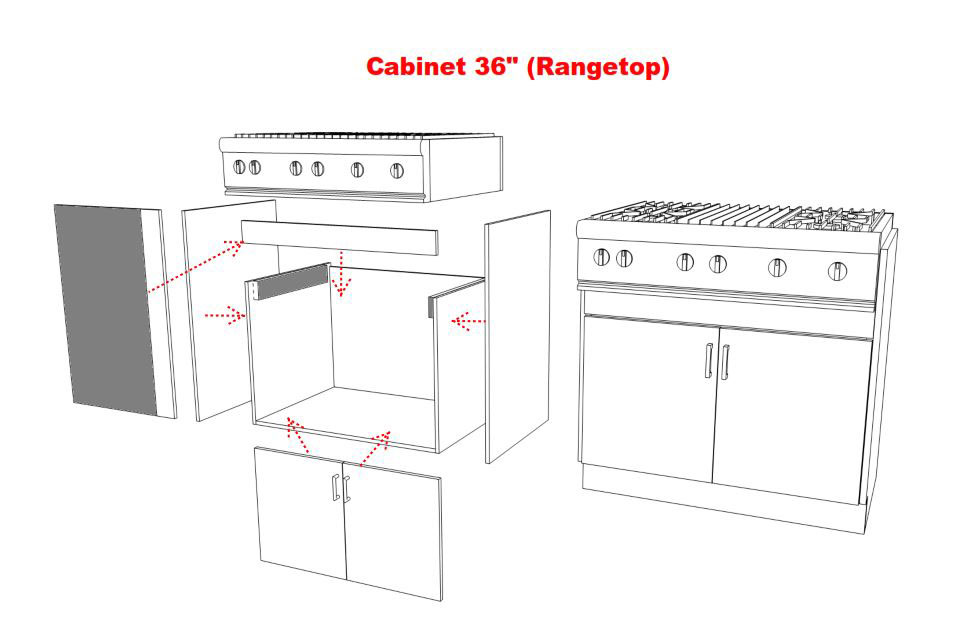 So, depending on the type of installation, you can hack either a SEKTION base cabinet or cabinet with doors and a false front to fit underneath either the farmhouse sink or deep cooktop.
[Designer note: You'll want to choose the cabinet with doors if the cooktop requires a lot of space for gas lines, or has a downdraft; or the sink needs a garbage disposal, or the plumbing comes out of the floor.]
Remember, our designers are here to guide you through your design and product selection process. And we trust that the challenges — and solutions — we've presented here reflect that we are indeed experts in all-things-IKEA. And even if your kitchen layout has one of these design challenges, you can be confident that they will be solved in an efficient and creative way. Let's get started!
Get custom design plans for (almost) every room in your home, starting at $395. Click here to get started.