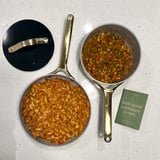 I recently moved out of my parents' house and into my very first apartment. As soon as I signed the lease, I quickly went from overjoyed to anxious, immediately realizing how much goes into perfecting your home, especially the kitchen. I wanted kitchen tools and appliances that are functional, durable, and, of course, stylish. The other major thing I had to consider while searching for quality kitchen tools and essentials was if they could handle and even enhance cooking Indian food. My family is huge on cooking. They've tried and tested cookware for plenty of years, and the ones that stay in their arsenal are the ones that can handle Indian cooking.
I've heard incredible things about Caraway, from the stylish bakeware to the bestselling cookware that's already an editor favorite. The brand is known for making some of the best nonstick cookware on the market that comes in a variety of stunning colors you'll want to display. Caraway released its new Iconics collection ($595, originally $745) featuring glazed black and white colorways with glossy, gold-toned hardware. It's elevated and oh so glam - undeniably my vibe. The set comes with a fry pan, a sauce pan with lid, a sauté pan with lid, and a dutch oven with lid. I fell in love with the cookware's sleek design, but the real test is how it handles my kitchen adventures.
What I Like About the Caraway Iconics Cookware
Right off the bat, I still can't believe how gorgeous the Iconics line is - the gold hardware shines and sparkles as the light hits it, and the black exterior looks so chic and elegant. This collection is so pretty that I had a hard time choosing between the black or white set. It's so beautifully crafted that I didn't want to use the set. I just wanted it displayed in my kitchen like a work of art. Unfortunately, apartment living means limited counter space, and putting this set behind cabinetry broke my heart a little.
Besides its gilded-glamour look, my first impression of the cookware is that it is on the heavier end and feels pretty durable. The nonstick, nontoxic ceramic coating has a smooth feel and a silky slip. The pots and pans have an aluminum core and stainless-steel handles. They have a thicker build compared to more lightweight options. I have a gas stove, but you can use this cookware on any stovetop, including induction and electric. It's also oven safe up to 550 degrees Fahrenheit.
I decided to cook two dishes to test their nonstick capabilities, a Cajun chicken pasta and a mixed-vegetable curry. From boiling pasta to searing meats and sautéing veggies, the cookware set could handle it all. It didn't stain from the turmeric, either. For each dish, I only used about two tablespoons of oil to fry up onions and create a saucy base. I didn't have to add additional oil or butter at all. It's probably the least amount of oil I've ever used in cooking dishes that serve around two to four people. The pots and pans have even heat distribution, so everything cooked evenly no matter where it was on the pan, including the chicken. Plus, the lids have a tiny hole that slowly lets out steam to cook down excess water. This was so useful in creating a sauce-like base that wasn't too watery. The food slid so easily as I stirred and mixed in the ingredients. None of the food burnt onto the pots or pans; it easily came off with one swipe.
What I appreciate about Caraway's cookware set is that it comes with its own storage solutions. You get a set of dividers that fit each pot and pan, so you can rest them vertically for space-saving organization. The best part? The dividers are magnetic, so they attach or can be separated so you can configure your organizing setup accordingly. It also comes with a lid organizer that can attach to a cabinet door.
What's Worth Noting
Like most nonstick cookware, to make sure the benefits last a long time, you have to handle the pots and pans with care and follow the directions. Yes, they are a bit high maintenance, however, the extra care is necessary to make it worth the investment. Some of the best practices listed include using the cookware in low to medium heat settings; avoiding using oil sprays and cooking aerosols; using soft wooden, plastic, nylon, or silicone utensils; and completely avoiding metal ones or sharp items.
For cleaning, it's best to handwash and be as gentle as possible. The nonstick coating prevents stuck-on food, however, you can always leave it to soak for a bit before using a soft sponge and dish soap to disinfect. To keep the nonstick coating intact for a longer time, it's best to be as nonabrasive as possible.
The cookware is on the heavier side, so if you're lacking in upper-body strength like I am, you might have a tendency to slide the pans and pots across surfaces, which the brand advises against. Another thing to note is that since the handles are metal, they will heat up as well, so it's best to have an oven mitt or kitchen towel you can use to make gripping lids and handles a little easier without burning yourself.
Who Is the Caraway Iconics Cookware Best For?
Whether you're a bona-fide master chef or a complete newbie in the kitchen, the set is great for anyone who loves to cook, especially if you're in the market for something high quality. We even ranked Caraway's cookware set as one of the best starter sets. It's perfect for those who want to rehaul their cookware collection and start fresh or as a first-time investment instead of relying on parents' hand-me-downs. It comes with just the right amount of pots and pans that you can use to cook up a storm without feeling overwhelmed. The staple set is multifunctional and consolidated, so you can avoid buying unnecessary pots and pans and keep your cabinets decluttered. As someone who's living on their own for the first time, the Caraway cookware set serves my cooking needs and accommodates my limited space. The stylish design of the Iconics collection is an added bonus.
Is the Caraway Iconics Cookware Collection Worth the Splurge?
In my opinion, quality cookware is always worth the splurge, especially if you cook often. Caraway's Iconics cookware collection is made for those who value and appreciate aesthetics as much as quality and function; you get the best of both worlds. It's so stunning, if I had the counter space, I would display it. Although the cookware line is a bit high maintenance, the fact that it comes with its own storage solutions is something that can't be overlooked. This is worth it for someone like me who's prioritizing quality and looking to invest in items that will last longer than my apartment lease and build my own core collection that's not just my mom's old stuff.
Where Is the Caraway Iconics Cookware Collection Available?
The newly released Iconics collection ($595, originally $745) is on the brand's site. However, Caraway's bestselling cookware is also available at Amazon ($445), Target ($395), Bed Bath & Beyond ($395), and Crate & Barrel ($395-$495).
Ratings: