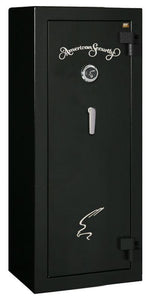 AMSEC BF6024 Gun & Rifle Safe - 2019 Model
Regular price $4,080.00 $3,060.00 Sale
AMSEC BF6024 Gun & Rifle Safe - 2019 Model
NEW for 2018
5 Year Parts & Labor Warranty (EXCLUDES PAINT) on all BF gun safes with factory-installed AMSEC U.L Listed locks).
Redundant Lock Boltwork -Allows for the installation of two dial combination locks. The redundant boltwork means the two installed locks operate completely independently. Unlocking either lock allows access to the safe. This design gives safe owners the protection of redundant locks to protect against any type of lock failure. 
NEW for 2017:
Inner steel liner now 12 gauge instead of 16 gauge.
12 - 1-1/2" chrome plated bolts (last year was 11. AMSEC added another top bolt).
Sapphire blue is now a standard high gloss color and can be purchased for an additional cost.
With the capability of fitting right into your bedroom closet, the AMSEC BF6024 Gun & Rifle Safe is compact, and features a sleek design, making this a secure and a great storage option for your gun collection. Made in USA, the AMSEC BF6024 Gun & Rifle Safe has all of the same features that the other BF series gun safes do but with a 3/8" solid steel plate door for stability and a chrome plated "L" shaped handle. These differences may seem small but they allow the safe to carry less overall weight and still maintain the security. They also allow you to place this gun safe virtually anywhere in your home.
Typically, heavier gun safes have to be mounted to a concrete surface or stay on the first floor to prevent damage to the floor because of the weight.  Specific requirements are needed in order to support the massive weight of the safe. The AMSEC BF6024 Gun & Rifle Safe makes up for that by being lighter in weight but still heavy enough to prevent any kind of burglar attack. The fire protection is still top notch at 2 hours that was tested by Intertek laboratory in extreme heat conditions at 1200 degrees F. The inside temperature never exceeded 325 degrees F. At around 450 degrees F any paper will be damaged or destroyed. Your firearms, passports, jewelry and other valuable items will be safe. To gain this superior fire protection they use a patented material called DryLight. It is a composite material made of concrete and fiberglass and other items. The exact formula is strictly secret to AMSEC. This DryLight also serves as an anti-drill barrier.
This AMSEC BF6024 Gun & Rifle Safe is a quality, detail oriented safe that will last you a lifetime. We believe that a purchase of this magnitude should be considered a once in a lifetime purchase and you definitely cannot argue against keeping your firearms out of harm's way. Consider the endless secure storage possibilities of the AMSEC BF6024 and get the peace of mind you deserve for your family today!
Features:
3/8" steel plate door.
12 each 1 1/2" solid steel bolts. 5 on the hinge side (stationary), 5 active bolts on the latch side and 2 active bolt on top.
Enhanced steel body thickness offers a 7 gauge steel barrier (overall thickness).
Inner steel liner now 12 gauge!
(4) each Pre Drilled factory anchor holes in each floor corner
Decorative chrome or brass plated "L" handle.
8-8-16 (8 rifles on left side, 8 rifles on the right side for a total of 16).
720 pounds.
Left swing or right swing options.
2 Hour Fire Rated.
LP Redundant Lock available for an additional charge.
NEW 5 Year Parts and Labor Warranty (EXCLUDES PAINT) on all BF Gun Safes with Factory-Installed AMSEC U.L. Listed Locks.
Interior Capacity
8-8-16 Gun + 1 Gun on the door organizer
Liquid error (sections/product-template line 203): Could not find asset snippets/spreadr-reviews.liquid