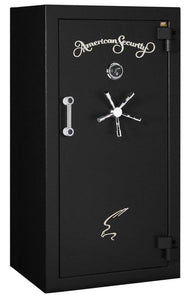 AMSEC BF6030 Gun and Rifle Safe - 2019 Model
Regular price $4,835.00 $3,626.00 Sale
AMSEC BF6030 Gun & Rifle Safe - 2019 Model
Looking for an AMSEC BF6030 in a hurry? We now have select colors and hardware in stock. Buy now by clicking one of the links below!
NEW for 2018
5 Year Parts & Labor Warranty (EXCLUDES PAINT) on all BF gun safes with factory-installed AMSEC U.L Listed locks).
Redundant Lock Boltwork -Allows for the installation of two dial combination locks. The redundant boltwork means the two installed locks operate completely independently. Unlocking either lock allows access to the safe. This design gives safe owners the protection of redundant locks to protect against any type of lock failure. 
NEW for 2017
Inner steel liner now 12 gauge instead of 16 gauge.
12 - 1-1/2" chrome plated bolts (last year was 11. AMSEC added another top bolt).
Sapphire blue is now a standard high gloss color and can be purchased for an additional cost.
American Security Products have the best gun safe warranty in the business. The lifetime warranty certificate is available for download on the left.
Looking for a trophy safe? The AMSEC BF6030 Gun Safe 2 hour fire resistant RSC rated burglary safe just might be the answer. The AMSEC BF6030 2 hour fire rated gun safe is one of the most unique safes in the industry. Why? Check it out.

REAL THEFT SECURITY:

The dual shelled body of the AMSEC fire and theft rated BF6030 Gun Safe encloses a proprietary DryLight concrete insulation eliminating the use of gypsum board and forming a solid theft barrier from outside attacks. The door consists of a 1/2" steel plate combined with 2" DryLight insulation for barrier from attacks and fire. Because of this manner of construction and the fact that it is equipped with a U.L. listed Group II combination lock and protected by massive hard plate means the safe has been awarded the U.L. Residential Security Container (RSC) burglary classification. This is your assurance of quality and protection. In addition there are also 12 massive 1 1/2" thick locking bolts to provide superior door security. 

UNMATCHED FIRE PROTECTION

The AMSEC exclusive New DryLight insulation is poured 2 inches thick between inner and outer steel walls for premier fire protection. This process allows a Intertek laboratory approved fire protection of 1200 degrees for 2 hours and is designed to maintain an interior temperature of less than 325 degrees F. This process is unparalleled in the gun safe market. Dual fire seals around entire door that include a silicon seal on the door jamb & Palusol seal on the door giving the door a snug fit for added fire protection. The Palusol seal expands up to 8 times its original thickness when exposed to heat.

The AMSEC BF6030 2 Hour Fire Rated Gun Safe with its maximum 27 total long gun capacity also has 4 pre-cut anchor holes, that, when used, add an additional level of security. There is a standard built in internal AC power port with removable external power cord. Included are commercial grade high security exterior hinges for additional security and full access (180 degree opening) to the elegant interior. 

The AMSEC fire and theft rated BF6030 gun safe has a unique mirrored back wall in the interior of the safe providing higher interior visibility. The fully adjustable interior shelves are all upholstered in a pin- dot fabric (standard feature) and the back panel features a Premium Door Organizer (PDO) for additional storage and organization. The outside of the door boasts a spy-proof key locking dial with decorative five spoke handle.

There are many options on the AMSEC Gun Safe BF6030 2 hour fire rated RSC-Rated burglary safe that include colors, shelving options and special interiors as well as locking options. Our professionals can help you with the perfect safe for your needs. Call us at 1-800-207-2259.
The AMSEC BF6030 Burglary/Fire Gun Safe - the Most Unique Gun Safe Line in the Industry
5 Year Parts & Labor Warranty (EXCLUDES PAINT) on all BF gun safes with factory-installed AMSEC U.L Listed locks).
Bold zinc die-cast polished logos in brass, chrome or black nickel.
Spy-proof, key-locking dial with decorative five-spoke handle and a convenient pull handle in brass, chrome or black nickel. Optional electronic locks are available.
Unique mirrored back wall for added interior visibility.
E-Z Slant-Out Interior for easy access to your long guns. Interior features rich pin-dot fabric and adjustable interior shelving.
The AMSEC BF6030 comes standard with 2 coverplates and 4 side shelves to allow storage on all sides of the safe.

The AMSEC BF Series Safes now come standard with premium door organizer. The AMSEC Premium Door Organizer (PDO) maximizes storage space and offers quick access to commonly used items. All PDO's include:

Various see-through pouches and zippered pockets to store valuables.
Two rows of holders for storage of choke tubes, small flashlights and ammo.
Two full-width pistol storage systems with four holsters to accommodate multiple handguns. Additional holsters can be purchased separately.
A long gun storage system that accommodates two guns. Includes AMSEC exclusive "no hassle" quick release band.
UNSURPASSED SECURITY
Residential Security
Container Burglary Rated
1/2" steel plate door combined with 1" DryLight insulation.
2" total wall thickness on all sides featuring our poured DryLight insulation and two layers of steel for exceptional fire and security protection. Total combined steel thickness of walls is 7 gauge.
U.L. Residential Security Container (RSC) Burglary Classification.
12 massive 1 1/2" chrome-plated bolts. Bolt detent system holds bolts in the open position.
New ultra smooth cam driven locking mechanism with increased handle rotation.
Commercial grade, adjustable ball bearing hinges.
Now available with Left Swing or Right Swing door.
U.L. listed Group II lock with massive hard plate and two relocking devices.
OPTIMAL FIRE PROTECTION
NEW Intertek laboratory testing confirms that the BF6030 has superior fire protection for two hours at 1,200 degrees F.
AMSEC's BF Gun Safes use a proprietary fill material called DryLight, which offers exceptional fire protection without adding excess weight.
This superior fire protection was confirmed at Intertek, the industry's leading independent laboratory for gun safe fire testing.
When analyzing the fire performance of competitive safes, be sure to weigh reports from independent laboratories against unverified factory testing.
During fire testing, Intertek kept the BF Gun Safe in the test oven for two hours. 
Within 8 minutes, the furnace temperature was raised to 1200 degrees F, and that temperature was maintained for the remainder of the two-hour test.
This method is consistent with the UL-72 fire test curve.
Typical house fires only reach temperatures of 1100 degrees F.
A safe is considered to have failed this test if temperatures exceed 350 degrees F anywhere in the safe.
This safe passed the test as internal temperatures never exceeded 325 degrees F during the two hours of testing.
Paper typically starts to ignite at 450 degrees F.
AVAILABLE INTERIOR CONFIGURATION
11-11-22 + 2 Gun
(11 long guns on the left side, 11 long guns on the right side, plus 2 guns in PDO for a total of 22 long guns)
AVAILABLE OPTIONS
BF Upgrade to the "Premium Package # 1" which includes the following (see picture below):
Please Order Above Under Options
HIWL120 LED Light Kit
Dehumidifier rod
Jewelry Tray
Hydrosorbent SG-450 Silica Gel Dehumidifier
Add to your order here: 
Custom orders welcome with options such as dri-rods, fluorescent light kit, jewelry box, shelf pistol rack and more. Please call us for a custom quote on these options at 1-800-207-2259.
---
Ken J
"Second AMSEC BF6030 bought in four years. Enough said."
Liquid error (sections/product-template line 203): Could not find asset snippets/spreadr-reviews.liquid