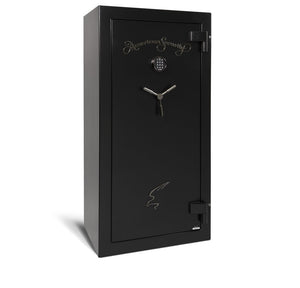 AMSEC FV6032E5 Rifle & Gun Safe
Regular price $2,131.50 $1,599.00 Sale
AMSEC FV6032E5 FV Series Rifle & Gun Safe
This AMSEC Gun Safe FV6032E5 45 minute fire rating is another in a series of high value gun safes. The safe with its maximum 24 long gun interior will still fit into a closet for additional security. This safe is loaded with features that are not found in other safes in its price range. Check them out below
Theft Protection:
The body is constructed of 12 gauge steel with a 3-5/8 inch recessed door that includes 3/16 inch solid steel with fire insulating material. This fire and theft resistant gun safe by AMSEC is equipped with a AMSEC ESL5 Electronic Lock with illuminated keypad. Protecting those important guns and contents is a system of 4-way bolt work that has a total of 14 massive 1 1/4" chrome plated locking bolts.That's a lot of protection for the price. There are 4 anchor holes in the bottom of the safe that when used will provide additional theft protection. There is also a pre-cut electrical access in the rear of the safe
Fire Protection:
The AMSEC Gun Safe FV6032E5 offers fire protection of an outside temperature of 1200 degrees for a period of 45 minutes without the interior temperature exceeding 350 degrees. Not bad for a safe at this price!
Other Important Features:
The AMSEC Gun Safe FV6032E5 with its changeable interior (11 long guns with shelves or 22 long guns with no shelves) always has a full width top shelf. The back door cover features a Premium Door Organizer and the fire walls are covered in a plush gray fabric while the shelves are a durable American Oak wood laminate finish. Again, a lot of features for the money. Oh yes! there is also external hinges that allows the door to swing 180 degrees for full access to the interior. The easy clean black textured finish on this fire and theft resistant gun safe by AMSEC adds even more value.
The AMSEC FV6032E5 45 minute fire rated gun safe is just one in a series of similar safes. If this safe does not fit your needs, be sure to check out our other AMSEC gun safes. Call one of our safe consultants at 1-800-207-2259 and ask about this safe or others if you have any questions.
Premium Package # 3 includes:
HIWL120 LED Light Kit
Dehumidifier rod
Internal power strip
Jewelry tray
Features:
3/16" Steel Plate door with 2 layers of fire insulating material (overall door thickness 3-5/8").
Mercury fire protection of 1200 degrees for 45 minutes. Designed to maintain an interior temperature of less than 350 degrees F.
2 Stage Dual fire seals with silicone seal on door jamb and expandable Palusol seal on the door.
Body constructed of 12-gauge solid steel plate with a fire insulating material.
Every FV Series gun safe comes standard with AMSEC's ESL5 Electronic Lock with illuminated keypad.
Optional Group II combination lock available.
Drill resistant hardplate with external spring-loaded re-locking device.
New ultra smooth cam driven mechanism with increased handle rotation.
3-point black nickel tri-spoke handle featuring slip clutch feature for additional security to prevent excessive torque to retract bolts during attempted break in.
Bold zinc die-cast polished black nickel logo.
4-way boltwork with 9 massive 1-1/4" chrome-plated locking bolts, and 5 deadbolts for a total of 14 bolts.
Adjustable ball bearing hinges.
Textured Black exterior and plush gray fabric interior including back-cover and firewalls.
Four (4) pre-cut anchor holes with mounting hardware included and one (1) pre-cut electrical access hole.
Interior Capacity: 11-11-22 + 2 on PDO.
The AMSEC FV6032E5 Series Safes now come standard with premium door organizer. The AMSEC Premium Door Organizer (PDO) maximizes storage space and offers quick access to commonly used items. All PDO's include:
Various see-through pouches and zippered pockets to store valuables.
Two rows of holders for storage of choke tubes, small flashlights and ammo.
Two full-width pistol storage systems with four holsters to accommodate multiple handguns. Additional holsters can be purchased separately.
A long gun storage system that accommodates two guns. Includes AMSEC exclusive "no hassle" quick release band.
Liquid error (sections/product-template line 203): Could not find asset snippets/spreadr-reviews.liquid