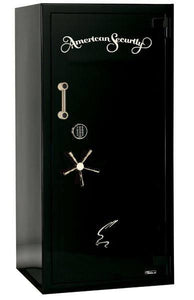 AMSEC RF6528 TL-30 High Security Gun Safe
Regular price $10,000.00 $7,500.00 Sale
AMSEC RF6528 TL-30 High Security Gun Safe
You may have heard the phrase "you only buy a safe once in your lifetime." If you have rifles including high-valued collectible rifles and valuables that you want to protect, the AMSEC Model RF6528 TL-30 High Security Gun Safe gives you fire and theft protection that is unmatched in today's market. This is one of the ONLY UL Rated TL-30 safes on the market today. This means that you can store up to $195,000 in content value if you do not have a burglar alarm or up to $375,000 with a burglar alarm. This high-security gun safe will give you some of the best theft protection on the market, as well as provide peace of mind. There is simply no better way to protect your firearms than to put them in the AMSEC Model RF6528.
Unparalleled Burglary Protection
The AMSEC RF6528 is among the top-rated gun safes in production today in terms of burglary protection. It has a high-density concrete fill between its inner and outer steel walls, and it's massive 5-3/4" thick door is protected by a standard combination lock and 10 steel 1-1/2" locking bolts. The safe weighs in at more than 3400 pounds, so you can be sure that burglars would have a very hard time removing it from your home. All of the safe's security features add up to a TL-30 burglary rating from Underwriters Laboratory, the same rating given to many safes used by jewelers in their retail operations.
Unmatched Fire Protection
The AMSEC RF6528 is incredibly resistant to fire, too. Its design and construction give it a 2-hour fire rating, meaning that it can withstand an 1850 degree F exterior temperature for up to 2 hours and still keep an interior temperature less than 350 degrees F. That means your guns and valuables will stay safe and undamaged in even the most intense, long-lasting fires.
Attractive Added Features
The AMSEC RF6528 delivers features that make not just a secure safe, but a highly functional and good-looking one, too.
Its features include:
Four pre-drilled anchor holes for increased security
Electrical access hole in the rear
Five-spoke handle.
Interior shelving and storage options, including jewelry shelves, pistol racks, and cabinets
Optional electronic locks
Optional dehumidifier
Choice of textured and high gloss colors
For help in deciding which version of the AMSEC RF6528 is right for your needs,  today at 1-800-207-2259. 
The Ultimate in Security - The Armory
Distinctive Style
Four textured finishes (colors) to choose from. (All dimensions and colors are approximate)  (Black, Granite, Sandstone and Chocolate Brown)
Eight gloss finishes (colors) to choose from for an additional cost. (Pearl Essence White, Burgundy Metallic, Onyx, Rosso Corsa Red, Macadamia Metallic, Platinum Metallic, Charcoal Metallic and Sapphire Blue. 
Bold zinc die-cast logo.
Decorative 3-point handle with spy-proof key locking dial.
The interior is fully upholstered in a plush beige or silver pin-dot velour fabric.
Optimal Fire Protection
Tested in a gas furnace at temperatures up to 1850 F for 2 hours (120 minutes), the interior temperature did not exceed 350 F.
Massive 3-1/2" body encloses a high-density fire resistant composite material to protect against intense fires.
Unsurpassed Security 
U.L. Listed burglary resistant TL-30 is built to withstand severe attacks from the sophisticated equipment used by today's burglars. The only U.L. Listed TL-30 burglary and fire resistant gun safe on the market today.
The overall thickness of the door is 6" and is constructed with a 2-3/4" defense barrier of outer and inner steel plates creating a single structure enclosing a unique, high-density fire and burglary resistant composite material.
The RF6528 formed body has a total protective thickness of 3-1/2" enclosing a high-density fire resistant composite material with nuggets and steel fibers.
A reinforced drill resistant door frame protects the door and each individual bolt chamber from severe side attacks.
Dual external relocker and one internal relocker.
A proprietary inner barrier protects against peeling attacks.
Equipped with a U.L. Listed Group 2M lock protected by a massive drill shattering hard plate and two additional spring-loaded re-locking devices.
10 each Massive 1-1/2" diameter chrome plated solid steel locking bolts on the safe door.
4 pre-drilled anchor holes.
1 electrical access hole.
Available Interior Configuration
12-12-24 Gun + 2 Gun on the door organizer.
This puts 12 rifles on the left side, 12 rifles on the right side for a total of 24 rifles. Plus 2 rifles fit on the door organizer.
Available Options 

RF Upgrade to the "Premium Package # 2" which includes the following 
HWL 120 LED Light Kit
Dehumidifier rod
Internal power strip
Jewelry tray
Hydrosorbent SG-450 Silica Gel Dehumidifier
Add to your order 
The AMSEC RF6528 Series Safes now come standard with a premium door organizer. The Premium Door Organizer will vary in size. The AMSEC Premium Door Organizer (PDO) maximizes storage space and offers quick access to commonly used items. All PDO's include:
Various see-through pouches and zippered pockets to store valuables.
Two rows of holders for storage of choke tubes, small flashlights, and ammo.
Two full-width pistol storage systems with four holsters to accommodate multiple handguns. Additional holsters can be purchased separately.
A long gun storage system that accommodates two guns. Includes AMSEC exclusive "no hassle" quick release band.
Model PDO7240 offers a zippered pocket large enough to store letter-size folders.
Liquid error (sections/product-template line 203): Could not find asset snippets/spreadr-reviews.liquid