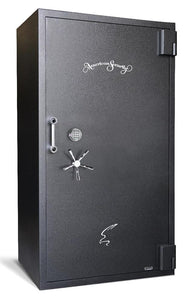 AMSEC RF703620X6 TL-30X6 High Security Gun Safe
Regular price $16,065.00 $12,049.00 Sale
AMSEC RF703620X6 TL-30X6 High Security Gun Safe (Formerly RFX703620)
The AMSEC RF703620X6 High Security Gun Safe is the only U.L. TL-30X6 rated gun safe made today. Underwriters Laboratory has tested this safe on all 6 sides (most gun safes have no test or only the door has been tested). With a 2-1/2" defense barrier of inner and outer steel plates enclosing a unique interlocking heavy duty steel barrier, 12,000 PSI high-strength concrete and high-density high-strength ceramic matrix, this safe is well protected.
Along with the high-security burglar rating, this gun safe also has two hours of certified fire protection. This means that along with the superior design and made in the USA craftsmanship, the RF703620X6 is impervious to burglary attacks attempted by most sophisticated equipment utilized today and the contents of the vault against intense fires.
Don't buy two safes (one for your rifles and a high security safe for your high-end valuables), buy the AMSEC RF703620X6. This two in one safe will protect both your rifles and high-end valuables.
The AMSEC RF703620X6 Series Safes now come standard with a premium door organizer. The size of the Premium Door Organizer will vary in size. The AMSEC Premium Door Organizer (PDO) maximizes storage space and offers quick access to commonly used items. All PDO's include:
Various see-through pouches and zippered pockets to store valuables.
Two rows of holders for storage of choke tubes, small flashlights and ammo.
Two full-width pistol storage systems with four holsters to accommodate multiple handguns. Additional holsters can be purchased separately.
A long gun storage system that accommodates two guns. Includes AMSEC exclusive "no hassle" quick release band.
Model PDO7240 offers a zippered pocket large enough to store letter-size folders.
Premium Upgrade Package # 2 Includes:
HIWL120 LED Light Kit
Dehumidifier Rod
Internal Power Strip
Jewelry Tray
The benefits of the AMSEC RF703620X6 include:
2-hour fire rating.
TL-30X6 UL burglar rating.
Holds 12-12-12-24-36 Gun or choose the all gun configuration 58+2 guns.
Weight: 4,578 pounds.
Outside Dimensions: 76" H x 42" W x 29.25" D.
Available in black textured, chocolate brown, granite and sandstone colors.
Hardware colors include chrome or brass.
Proudly made in the USA.
Liquid error (sections/product-template line 203): Could not find asset snippets/spreadr-reviews.liquid