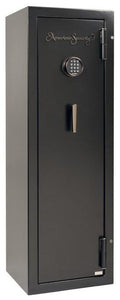 AMSEC TF5517E5 30 Minute Gun & Rifle Safe
Regular price $1,128.75 $847.00 Sale
AMSEC TF5517E5 30 Minute Gun & Rifle Safe
The AMSEC TF5517E5 is the perfect closet sized gun safe, designed for small spaces. The outside dimensions are 55.25" H x 17.34" W x 16.00" D. If you live in an apartment or condo, this gun safe might be the one for you. The door features a 3/16" steel plate with 2 layers of fire insulating material. The body consists of a 14-gauge solid steel plate with fire insulating material.
AMSEC's TF5517E5 Gun & Rifle Safe has a fire rating of 30 minutes and was tested in temperatures outside the safe of 1200 degrees F. The internal temperature did not exceed 350 degrees F. Along with the fire rating is 2 stage dual fire seals with silicone seal on the door job and a expandable Palusol seal on the door. 
The lock on the TF5517E5 is a ESL5 Electronic Lock with a light up keypad for use in the dark. Behind the lock is a drill resistant hardplate and a external spring-loaded re-locking device. Optional locks such as a Group II combination lock are also available for an additional price. There is 4-way boltwork with 5 active 1" chrome-plated bolts and 3 deadbolts for a total of 8 bolts.
The AMSEC TF5517E5 has burglar and fire features but also looks great as well. The outside is painted a textured black exterior with a black nickel hardware and the interior features a gray fabric interior. There is a bold zinc die-cast polished chrome logo on the door. The Premium Door Organizer (PDO) maximizes storage space and offers you quick access to your items right there on the door.
If you have any questions regarding the AMSEC TF5517E5 Gun & Rifle Safe, please call us at 800-207-2259 today!
Standard Features:
3/16″ steel plate door with 2 layers of fire insulating material.
Fire protection of 1200°F for 30 minutes. Designed to maintain an interior temperature of less than 350°F.
2 stage dual fire seals with silicone seal on door jamb and expandable Palusol™ seal on door.
Body constructed of 14-gauge solid steel plate with a fire insulating material.
AMSEC's ESL5 Electronic Lock with illuminated keypad, drill resistant hardplate and external spring-loaded re-locking device.
Optional Group II combination lock available.
Chrome "L" handle featuring slip clutch feature for additional security to prevent excessive torque to retract bolts during attempted break in.
Bold zinc die-cast polished chrome logo.
4-way boltwork with 5 active 1″ chrome-plated bolts and 3 deadbolts for a total of 8 bolts.
Premium Door Organizer (PDO) maximizes storage space and offers quick access to commonly used items.
Textured Black exterior with Black Nickel Hardware and Gray fabric interior.
Durable hinges.
Four (4) pre-cut anchor holes with mounting hardware included and one (1) pre-cut electrical access hole.
Lifetime warranty 
Liquid error (sections/product-template line 203): Could not find asset snippets/spreadr-reviews.liquid