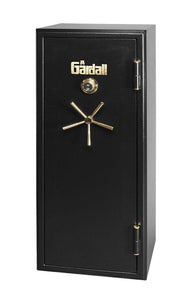 Gardall BGF-6024-B-C Firelined Gun Safe
Regular price $2,330.00 $1,747.50 Sale
Gardall BGF-6024-B-C Firelined Gun Safe
Check out the burglar & fire rated Gardall BGF-6024-B-C BGF Series Gun Safe. Designed to hold up to 16 long guns, the BGF-6024 model is 59.13" H x 24" W x 22" deep and weighs 520 pounds. NEW for 2016, this gun safe also features a 60 minute fire rating, tested at temperatures up to 1400 degrees F. Also new for 2016 is the UL tested and approved RSC burglary rating. This gun safe also meets or exceeds the CDOJ (California Department of Justice) standard.
The Gardall BGF-6024 will hold up to 16 rifles without scopes. It also features a NEW Premium Quality Door Organizer on the door as a standard feature. This redesigned full length door organizer offers extra capacity for ammo and pistols. There is a 5 spoke handle to open the door available in gold or silver trim package. Other security features include 7 active 1-1/2" bolts to prevent pry attacks as well as 3 - 1-1/2" dead bolts on the hinge side. There are 4 anchor holes on the bottom to bolt to a sold surface (highly recommended). The outside of the BGF-6024 is painted with a heavy duty black powder coated (matte paint).
If you have any questions regarding the Gardall BGF-6024 BGF Series Gun Safe, please give us a call at 800-207-2259 today!
BGF-6024 Features:

1/4" steel in the door
11 gauge body
3 way locking bolts - 7 active 1-1/2" bolts
U.L. Group II lock with spyproof dial
2 layers - 1/2" UL rated fire board insulation
U.L. Approved Intumescent door seal expands up to 7x original size
S&G electronic lock available as an option
16 gun slots for long guns
5 spoke handle with clutch
4 anchoring holes in bottom
U.L. RSC Burglary Label / CA DOJ
Fire tested at 1400 degrees F for 60 minutes
Add 3" to depth for handle
3 -1-1/2" dead bolts on hinge side
New Premium Quality Door Organizer Standard
Powder Coated Matte Finish in black
Gold or Silver trim available
All purpose (3 shelf) interiors available as an option
Liquid error (sections/product-template line 203): Could not find asset snippets/spreadr-reviews.liquid