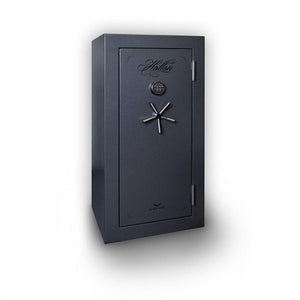 Hollon BHS-22E Black Hawk Series Gun Safe
Regular price $2,077.00 $1,558.00 Sale
Hollon BHS-22E Black Hawk Series Gun Safe
Affordable gun safes with good quality can be hard to find. Hollon has designed a gun safe that is good quality at a great price. Take a look at the Hollon BHS-22E Black Hawk Gun Safe. Featuring a 10 gauge steel body an door, (14) - 1-1/2" solid locking bolts, a drill resistant hard plate, the BHS-22E is built to withstand a burglar attack.
The Black Hawk Series by Hollon also features a 90 minute fire rating along with an intumescent door seal which will expand when exposed to fire and heat. It will outlast any standard house fire.
Other great features on the Hollon BHS-22E include fire resistant 3 plug outlet with dual USB ports, extra space for extra long rifles, deluxe corded trim shelving and a steel reinforced top shelf for heavy weight loads. There is also a pocket door organizer on the door.
The lock is a UL Listed Type 1 Military Grade EMP resistant S&G Digital Lock. The BHS-22E will hold up to 22 long guns without scopes. Another great feature about this gun safe is the Limited Lifetime warranty against burglar and fire. 
If you have any questions regarding the Hollon BHS-22E Black Hawk Series Gun Safe, please give us a call today at 800-207-2259!
Features:
10 gauge steel body and door
22 "Comfort Fit" Gun Capacity
Now Includes "Vista Light Kit" battery or electrical operated. $150 Value
Standard with a Fire Resistant 3 plug outlet w/ Dual USB Ports which also has 2 USB ports
90 min Fire Rating
Smokey Chrome 5 Spoke Handle
UL Listed Type 1, Military Grade EMP Resistant S&G Electronic Lock
Drill/Ballistic Resistant Hard Plate
Intumescent Door Seal That Swells To Seal The Door When Exposed To Heat
(14) 1-1/2″ Solid Steel Bolts
Extra Space for Extra Long Rifles
Corded Trim shelving
Foam Backed Cushioned Deluxe Liner
Steel Reinforced Top Shelf To Support Heavy Loads
Pocket Door Organizer
Heavy Duty Vault Hinges
Ext. Dimensions: 59″ H x 30″ W x 24″ D
Int. Dimensions: 55″ H x 27″ W x 20-1/2″ D
Cubes: 17.75
Weight: 600 LBS
Holds 22 guns
Liquid error (sections/product-template line 203): Could not find asset snippets/spreadr-reviews.liquid