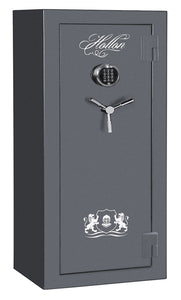 Hollon CS-12E Crescent Shield Series Gun Safe
Regular price $1,540.00 $1,155.00 Sale
Hollon CS-12E Crescent Shield Series Gun Safe
Hollon has designed the Crescent Shield Series CS-12E to be affordable but above mid-level quality. This safe is a big step up from the safes you find at the big box stores. Featuring 12-gauge steel in both the door and the body plus the 1.25" solid steel active locking bolts, the CS-12E will hold up in event of a burglary attack. Other burglar protection features include a drill/ballistic resistant hard plate and a UL Listed, Type 1 Rated S&G Electronic Lock.
The fire rating on the Hollon CS-12E Crescent Shield Gun Safe is above average with a 75 minute fire rating. There is also an intumescent door seal around the door that will swell in the event of fire or heat. This fire rating will outlast any standard house fire. 
Inside the CS-12E features a deluxe interior with a deep gray foam backed liner. The shelves and gun racks inside this gun safe are adjustable or removable depending on your needs. There is a pocket door organizer on the door for more organization. This closet sized gun safe will hold up to 12 long guns (without scopes) and features a 12 comfort fit gun capacity. 
Hollon stands behind the CS-12E and offers a Limited Lifetime warranty against fire and burglary.
If you have any questions regarding the Hollon CS-12E Crescent Shield Gun Safe, please give us a call today at 800-207-2259.
12 Gauge Steel in Door and Body.
75 minute Fire Resistance.
Intumescent Door Seal.
1-1/4" Solid Steel Active Locking Bolts.
3-Spoke Handle.
Drill/Ballistic Resistant Hard Plate.
12 Comfort Fit Gun Capacity.
Deluxe interior with deep grey foam backed liner.
Pocket Door Organizer.
Charcoal Grey Liner.
Heavy Duty Hinges.
UL Listed, Type 1 Rated S&G Electronic Lock.
4 Pre-Drilled Mounting Holes.
NEW - Gun Metal Gray Finish.
Liquid error (sections/product-template line 203): Could not find asset snippets/spreadr-reviews.liquid