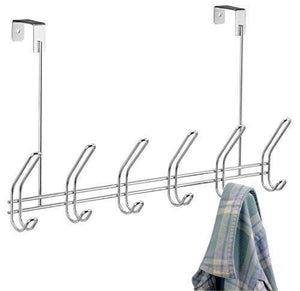 InterDesign Classico Over Door Organizer Hooks – 6 Hook Storage Rack for Coats, Hats, Robes or Towels, Chrome
Regular price $26.20 $18.58 Sale
Brand: InterDesign
Color: Chrome
Features:
VERSATILE DESIGN: Practical organization for bedrooms, kitchens, entryways, garages or bathrooms.
GET ORGANIZED: Discreet hanging storage for purses, hats, clothes, coats, leashes, towels and more.
STRONG & DURABLE: Steel hooks with an attractive bronze finish, measures 18.75" x 5" x 10.75".
NO TOOLS, NO DRILLS: Over door rack creates instant storage on interior doors up to 1.5" Inches thick.
THE INTERDESIGN PROMISE: Bringing you elegant, affordable home products for over 40 years.
Publisher: InterDesign
Warranty: 90-day limited.
Details: This over door storage rack creates practical organization wherever you hang it, and the versatile design makes it perfect for anywhere around the home. Providing extra hanging storage in seconds, the hooks can be hung in bedrooms, kitchens, hallways, entryways, garages, and bathrooms - simply hang over any standard interior door - no hardware required. Equally suited to storing jackets, hats, leashes and coats by the door, or bath robes and towels in the bedroom, the sturdy, durable hooks will keep your home tidy and organized, and the portable over door rack design allows you to remove and relocate the storage organizer hooks as needed. InterDesign's creative products enhance your décor, turning simple home solutions into must-have elegant accessories that shine. Designed in the USA, we are proud to produce a wide selection of high quality home, bath and storage solutions that excite, inspire and charm. Stylish, functional and affordable, our products have been enriching customers' homes for over 40 years. InterDesign: innovative products, exceptional value.
UPC: 799360763846
EAN: 7174117253871
Package Dimensions: 18.9 x 11.0 x 3.9 inches
Liquid error (sections/product-template line 203): Could not find asset snippets/spreadr-reviews.liquid