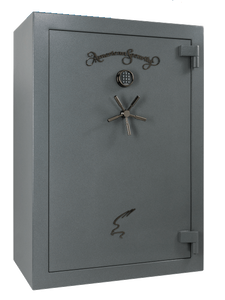 Limited Edition AMSEC FV6042E5 45 Minute Fire Gun Safe
Regular price $2,295.00 $1,699.00 Sale
Limited Edition AMSEC FV6042E5 45 Minute Fire Gun Safe
Check out AMSEC's Limited Edition FV series wide body gun safe. This gun safe is 60.00" high by 42.00" wide by 25.00" deep. It comes with many options that you have to pay extra for in most other gun safes. These include a premium door organizer ($113.00 value), power strip with 3 sockets and USB port, dehumidifier rod ($38.00 value) and a LED Light Kit ($195.00 value). These extra features add up to $346.00 in FREE options.
The AMSEC FV6042E5 has a ETL 45 minute fire rating. It is also CDOJ approved. The body is constructed of 12 gauge solid steel with a 3-5/8" recessed door that includes 3/16" solid steel with fire insulating material. This AMSEC 44 gun interior burglar and fire gun safe is equipped with AMSEC's ESL5 electronic lock with illuminated keypad. Protecting those important guns and contents is a system of 4-way bolt work that has a total of 14 1-1/4" diameter chrome-plated steel bolts. There are 4 anchor holes in the bottom of the safe that when used provide additional theft protection. 
Buy the AMSEC FV6042E5 today while supplies last. This gun safe won't be made anymore after it sells out. Please call us at 800-207-2259 to place your order or with any questions.
Features:
Textured Gunmetal Gray Finish
Black Nickel Hardware
ETL 45 minute fire rating
ESL5 electronic lock
5-spoke handle
Gray fabric interior
LED Light Kit (Included)
Dehumidifier Rod (Included)
Power strip with 3 sockets and USB port
Premium door organizer
Specifications:
Outside Dimensions: 60.00" H x 42.00" W x 25.00"  D
Inside Dimensions: 57.50" H x 40.00" W x 19.50" D
Gun Capacity: up to 44 long guns
Weight: 836 pounds
Liquid error (sections/product-template line 203): Could not find asset snippets/spreadr-reviews.liquid