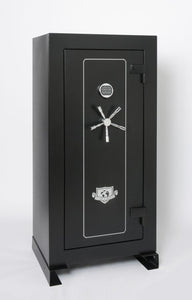 SafeandVaultStore Gold 24 Gun Safe
Regular price $2,186.00 $1,655.00 Sale
SafeandVaultStore Gold 24 Gun Safe
Check out the features of the economical SafeandVaultStore Gold 24 Gun Safe. There are many features that make this safe great along with the affordable price. The Gold 24 is 60.00" H x 30.00" W x 22.00" D and weighs 669 pounds. This gun safe can hold up to 24 long guns without scopes. There is also a door organizer for additional storage.
The security features on the SafeandVaultStore Gold 24 are better than most gun safes on the market today. They include 10 gauge steel construction, a UL Listed Digital Lock, a drill resistant hardplate and 1-1/2" diameter locking bolts. You will never have to worry that your rifles and other items are not secure.
The inside of the Gold 24 features a USB and electrical power for a dehumidifier and a LED light kit. Also included is a voltage stabilizer and a temperature sensor as well. A 5 spoke handle helps with ease of opening and closing the door. There are two colors available: Black or Silver paint. This gun safe has a really good warranty with a 5 year parts and labor warranty. Most gun safes on the market have a 1 year warranty. There is also another limited lifetime warranty.
If you need a gun safe to protect your rifles from theft or from children getting their hands on them, the SafeandVaultStore Gold 24 Gun Safe is the perfect choice.
Gold Series Features:
24 Gun Capacity
Door Organizer
90 Minute Fire Rating
1-1/2" Diameter Locking Bolts
UL Listed Digital Lock
Drill Resistant Hard Plate
Five Spoke Handle
10 Gauge Steel Construction
1/4" plate steel door
USB and Electrical Power
LED Lights Including Voltage Stabilizer & Temperature Sensor
5 Year Parts and Labor & Limited Lifetime Warranty
Available Colors: Black or Silver
Specifications:
60.00" H x 30.00" W x 22.00" D
Weight: 669 Pounds
Liquid error (sections/product-template line 203): Could not find asset snippets/spreadr-reviews.liquid