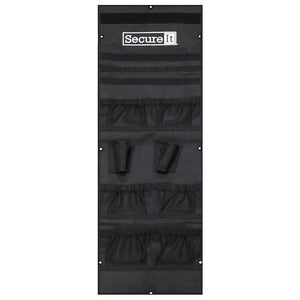 SecureIt AG-52-DR-ORG Agile 52 Door Organizer
Regular price $149.99 $109.99 Sale
SecureIt AG-52-DR-ORG Agile 52 Door Organizer
Store more gear with the Agile™ series door storage system. This gun cabinet accessory allows you to increase the storage capacity of your Agile™ system. The Agile™ Model 52 Door Organizer has storage holsters for two handguns, Molle webbing for tactical bags and pouches and also, mesh pockets for accessories and gear.

Each Agile™ door storage system can be installed within minutes.
The Agile™ Door Organizer has a 20lbs. weight capacity. To prevent fabric deformation, we do not recommend exceeding this weight limit.
Note: The Agile™ Model 52 Door Organizer is only compatible with the Generation-2 Agile™ Model 52 (the square keypad version) 
Features:
2 Handgun Holsters
3 Strips of Molle Webbing
6 Mesh Pockets for Accessories & Gear
1 Hook & Loop Strip for Patches
Specifications:
Dimensions: 46.25" H x 15.00" W
Weight: 1 Pound
Liquid error (sections/product-template line 203): Could not find asset snippets/spreadr-reviews.liquid