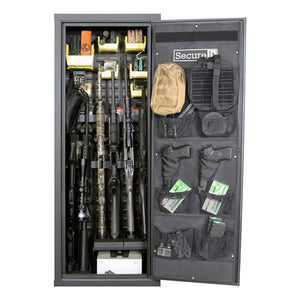 SecureIt AG-52KD-PRO-YLW Agile Model 52 PRO Ultralight Gun Safe System
Regular price $1,199.99 $909.99 Sale
SecureIt AG-52KD-PRO-YLW Agile Model 52 PRO Ultralight Gun Safe System 
The SecureIt Agile Model 52 Pro Gun Cabinet is our best-selling ultralight, heavy-duty gun safe system weighing hundreds of pounds less than old-school gun vaults, but with the security and safety, you require to store your guns. The Agile Model 52 Pro is an upgrade from the Base model which includes a variety of over a dozen accessories standard with every unit. With the additional accessories upgrade and organize the space inside for maximum performance. Featuring CradleGrid™ Technology for organized and adaptable storage, the Agile Model 52 Pro is tough, flexible, and customizable, with unsurpassed security at a weight you don't need a forklift to move.

Designed with the same professional-grade craftsmanship we use for the U.S. military, the Agile Model 52 Pro is how today's gun owner safely stores guns at a cost hundreds of dollars less than traditional gun vaults.
What's Included:
Heavy duty steel cabinet
Louvered back panel grid
Six (6) Upper Cradles with Removable Bungees
Three (3) Stock Bases
One (1) Agile Model 52 Door Organizer
Three (3) Small Bins with Dividers
Three (3) Medium Bins with Dividers
One (1) Large Bin with Divider
Two (2) Magnetic Hooks
Two (2) Metal Storage Trays
One (1) Rifle and Gear Shelf - 4 Gun Capacity
Highlights:
CradleGrid system - Allows adjustment on the fly to store any long gun - no tools necessary.
No need to re-zero - Stores any style rifle with a scope attached.
Straight-line across - Allows you to reach each firearm without moving others.
Organizational awareness - Improves visual inventory.
Ideal size - For home and office.
Features:
Keypad control panel
Key override
KnockDown design (patent pending) for fast assembly
Recessed, full piano hinge swing door with 3-point locking system
Stores any 6 firearms up to 50" in length
*Battery NOT included
Specifications:
Outside Dimensions: 52.00" H x 20.00" W x 15.00" D
Weight: 105 Pounds
Liquid error (sections/product-template line 203): Could not find asset snippets/spreadr-reviews.liquid