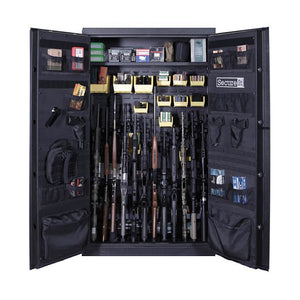 SecureIt ANS-59-12TD-PLUS-YLW Answer Series Model 12 Plus Heavy Duty Ultralight Gun Safe
Regular price $2,532.00 $1,899.00 Sale
SecureIt ANS-59-12TD-PLUS-YLW Answer Series Model 12 Plus Heavy Duty Ultralight Gun Safe
The SecureIt Answer™ Ultralight Gun Safe Model 12 Plus is an ultralight, heavy-duty gun safe system. Weighing hundreds of pounds less than old-school gun vaults allows for flexible repositioning should you ever need to move it without compromising the security and safety you require to store your guns. Featuring CradleGrid™ Technology for organized and adaptable storage. This upgrade from the Base model includes a variety of over a dozen accessories standard with every unit. With the additional accessories upgrade and organize the space inside for maximum performance. The Answer™ Model 12 Plus is also fully welded and able to be secured to the floor for an extra level of security. Order yours today with our White Glove Delivery service and eliminate the stress of unpacking and set up!

Designed with the same professional-grade craftsmanship we use for the U.S. military, the Answer™ Model 12 Plus is how today's gun owner safely stores guns at a cost hundreds of dollars less than traditional gun vaults.
Features:
A heavy-duty fully welded storage system
No drywall or carpet inside to corrode your guns
18" deep allowing it to fit where most gun safes cannot
Easy to move should you need to move it
Designed to be inconspicuous, not a shiny showpiece
Works perfectly with a decentralized gun storage plan
Allows you to store a great amount of gear & accessories
Straight-line access to all your firearms
Standard CradleGrid components
What's Included:
Twelve (12) Upper Saddles with Retractable Bungee
Six (6) Stock Bases
Two (2) Answer 12 Door Organizers
One (1) Answer 12 Storage Shelf (Spans Entire Width of the Cabinet)
Six (6) Small Bins with Dividers
Four (4) Medium Bins with Dividers
Three (3) Large Bins with Dividers
Four (4) Metal Storage Trays
Specifications:
Outside Dimensions: 59.88" H x 36.00" W x 18.00" D
Inside Dimensions: 59.00" H x 35.88" W x 17.00" D
Interior Cubic Feet: 20.83
Weight: 390 Pounds
Gauge: 12
Lock: Securam
Finish: Black Textured Powder Coated
Mounting Holes: 4 (Located in the Base)
Door specs: Four 7/8" bolts stationary per hinge side, Twelve, 1-1/8" sliding bolts on open sides (4 right side, 2 Top and 2 Bottom per door). Six heavy-duty hinges.
Features: Securam Lock and keypad, Cradle Grid Technology, Door Organizer, Power hook-up for lights, etc.
Liquid error (sections/product-template line 203): Could not find asset snippets/spreadr-reviews.liquid