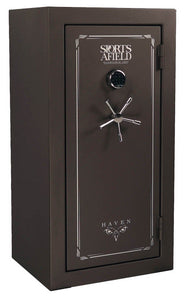 Sports Afield SA5930H Haven Series Gun Safe - 75 Minute Fire Rating
Regular price $1,799.00 $1,335.00 Sale
Sports Afield SA5930H Haven Series Gun Safe - 75 Minute Fire Rating
The Sports Afield Haven Series SA5930H is unique in that it is fire rated but also features a waterproof seal. Do you want to bolt your gun safe in your basement but worry when you go on vacation that your basement will flood? The SA5930H can't stop a flood from happening, but it can protect your items inside in the event of a flood. It will keep your belongings dry for up to 7 days in up to 2' of water using the Sports Afield proprietary Triple Seal.
The Sports Afield Haven SA5930H also features a 75 minute fire rating tested at temperatures up to 1400 degrees F. There is a triple seal of smoke, fire and water which is unique to Sports Afield. It is also California CDOJ approved. An electronic lock comes standard which will light up in the dark (illuminated). There are 2 backup keys in case the lock fails. 
Security features on the Sports Afield SA5930H Haven Series Gun Safe include a theft alert audio alarm, (10) 1.5" steel bolts, uni weld construction and a bolt down kit with 4 anchor bolts to mount to a solid surface. The outside is painted a durable dark earth matte textured finish. Inside there is a door organizer and adjustable shelves which can be customized depending on your needs. This gun safe will hold 36 long guns on the inside and 6 on the door organizer. It weighs a total of 567 pounds and has external dimensions of 59.00" high by 30.00" wide by 25.00" deep. Remember to add 2" to the depth for the handle, lock and hinges.
If you have any questions regarding the Sports Afield SA5930H Haven Series Gun Safe, please give us a call today at 800-207-2259!
Features:
Electronic Lock - Fully programmable illuminated electronic lock.
Construction / Safety - 1.5" steel bolts with pry resistant recessed doors and hardplates.
California CDOJ Approved.
Custom Features - Deluxe door organization.
Adjustable shelving.
Single UL approved power outlet.
Body - 14 Gauge Steel.
Specifications:
Gun Capacity: 36 + 6 on the door
External Dimensions: 59.00" H x 30.00" W x 25.00" D
Interior Dimensions: 55.50" H x 26.88" W x 18.25" D
Interior Cubic Feet: 15.75
Fire Rating: 75 minutes at 1400 degrees F
Lock Type: Illuminated Electronic Lock
Override Key (qty 2): YES
Theft Alert Audio Alarm: YES
Finish/Color: Dark Earth Matte
# of Steel Bolts: 10
Steel Bolt Size: 1.5"
Waterproofing: 2' for 7 days
Triple Seal - Smoke/Fire/Water: YES
Uni Weld Construction: YES
Door Organizer: YES - Deluxe
Zero Sag Steel Reinforced Top Shelf: YES
Power Outlet: YES
Bolt Down Kit: YES
CDOJ Approved: YES
Weight: 567 Pounds
Warranty:
Industry Best Warranty
At Sports Afield we stand behind our products by providing the most comprehensive warranty in the industry. If a problem does arise, we provide exceptional customer service to resolve all issues. We want our customers to be completely satisfied with the purchase of their Sports Afield safe.
Lifetime, no hassle warranty against theft, fire and natural flood – free shipping.
Lifetime manufacturer's warranty on all parts, electronic lock, paint defects.
Liquid error (sections/product-template line 203): Could not find asset snippets/spreadr-reviews.liquid