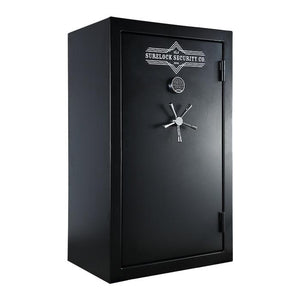 Surelock Security SLSLT-30 Lieutenant Series Gun Safe
Regular price $1,819.99 $1,419.99 Sale
Surelock Security SLSLT-30 Lieutenant Series Gun Safe
Surelock Security has designed a great gun safe for those that have a large amount of rifles and valuables to protect. The SLSLT-30 Lieutenant Series Gun Safe features 11-gauge steel in both the body and the door. Many gun safes on the market feature 12-gauge steel in the body, so this is an upgrade. This gun safe includes 6 active locking bolts and 4 deadbolts to prevent prying attacks to the door. Each bolt is 1.5" in diameter. 
The Surelcok Security SLSLT-30 Lieutenant Series Gun Safe will hold up to 30 long guns. It features a 60 minute fire rating plus it has a fire and smoke seal around the door. 
The shelving inside Surelock Security SLSLT-25 Lieutenant Series Gun Safe features a three shelf adjustable interior plus two gun racks. There are other great features standard including a LED Light (battery operated), interior door panel (door organizer), power outlet, USB port and an Ethernet port. The lock is a digital electronic lock which can be programmed with your own unique combination. Surelock Security includes a Lifetime Replacement warranty on each Lieutenant Gun Safe.
If you have any questions regarding the Surelock Security SLSLT-30 Lieutenant Series Gun Safe, please give us a call at 800-207-2259.
Features:
11-Gauge steel
Gun capacity: 30
Includes 6 active locking bolts and 4 deadbolts
1.5" bolt size
Three (3) shelf adjustable interior
Two (2) gun racks
60-Minute fire rating
Fire and smoke seal door
LED Light (Battery operated)
Interior door panel (Door organizer)
Power outlet
USB port
Ethernet port
Five spoke handle and lock
Securam Digital Electronic Lock standard 
Lifetime Warranty
Specifications:
Outside Dimensions: 59.00" H x 36.00" W x 25.00" D
Inside Dimensions: 55.50" H x 33.00" W x 20.50" D
Interior Cubic Feet: 21.73
Weight: 726 Pounds
Liquid error (sections/product-template line 203): Could not find asset snippets/spreadr-reviews.liquid