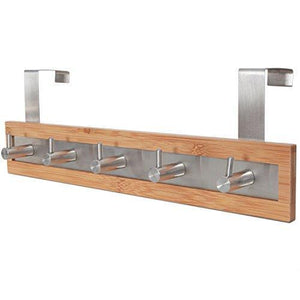 ToiletTree Products Bamboo Wood & Stainless Steel Over the Door Towel Rack, 5 Hooks
Regular price $34.95 $17.50 Sale
Brand: ToiletTree Products
Color: Bamboo
Features:
Stay organized with this modern, wooden bamboo over-the-door organizer rack with hooks; it's the perfect addition to your bathroom and a great place to hang towels, bathrobes, and pajamas
Multiple hooks make it easy to keep your clothes off the floor and out of the way; the bamboo and stainless steel design of this sturdy hanger looks great in any type of room with any type of décor
Works like a charm in your utility or laundry rooms where you can hang clothes to dry, put aside clothes to take to the dry cleaners, or store clothes that need mending; use inside your closet to hang purses, belts, or scarves
Place it in your front door closet to make room for more coats, hats, umbrellas, and other outside gear or clothing; you can depend on its sturdy construction to hold all your belongings safely and securely
Dimensions are 4.7"H x 14.1"W x 3.5"D for this 5-hook hanging Bamboo Stainless Steel Towel Rack; it's just the right size to meet a wide variety of needs throughout your home and not just for the bathroom
Publisher: ToiletTree Products
Details: Keeping your bathroom neat and tidy is easy when you put this organizer over your door in the bathroom. Instead of tossing wet towels on the floor or elsewhere, put them on the hooks of this hanging rack and they'll be dry in no time at all. Works great in every room in your house-no need to limit it to the bathroom. Help keep your whole house organized by putting one in every room. Buy one or more today to make your home the best it can be. Also available in 3 hook.
UPC: 857036002931
EAN: 0857036002931
Package Dimensions: 14.3 x 7.7 x 2.2 inches
Liquid error (sections/product-template line 203): Could not find asset snippets/spreadr-reviews.liquid