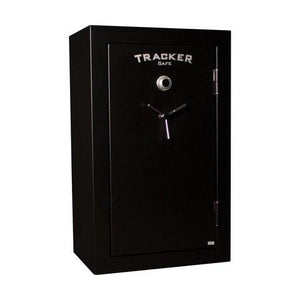 Tracker Safe M32 Gun & Rifle Safe
Regular price $1,995.00 $1,670.00 Sale
Tracker Safe M32 Gun & Rifle Safe
The black powder coat finished Tracker Safe M32 gun safe is for bigger long gun collections. It has slots for 32 long guns, with 2 long gun slots in the door organizer, giving it a 34 gun capacity.
The internal outlet has 3 standard plugs and 2 USB ports. Adjustable shelving includes one large shelf and three smaller shelves. The gray carpeted interior will safely cushion your gun collection.
A full door organizer offers several handy pockets to hold all your extra equipment, ammo, cleaning supplies, and odds and ends. The exterior has a chrome plated tri-spoke handle with chrome plated hinge caps.
Your guns will remain secure behind the 5-inch thick composite 11 gauge (3 mm) steel door. To safely secure them, there are 12 by 1.25-inch diameter steel locking bolts located 2 up, 2 down, 5 on the non-hinged side and 3 dead on the hinged side.
A re-locker pin helps prevent lock tampering, and a drill-resistant hard plate protects against attacks. The external hinges allow the door to open to 200 degrees.
The welded body is made of heavy 11 gauge steel (3 mm), and there are 4 pre-drilled holes on the bottom of the safe you can use to anchor your safe to the floor. Since the safest flooring anchor is concrete, mounting hardware for concrete is included.
Security is further enhanced by your choice of locks for your M32 gun safe. You can choose the chrome LaGard Group 2 mechanical dial EMP-proof lock (made in China). Or, you can choose the chrome, UL listed LaGard Basic II high security electronic lock (made in the USA).
You will not have to worry about fire damage to your gun collection with the Tracker Safe M32. The heat activated door seal expands to 5 times its thickness and can withstand a house fire‰۪s heat.
There are two layers of fireboard insulation that protect the interior of the M32 and three layers of fireboard insulation that protect the door. The external hinges also offer better fire-damage protection than internal hinges would.
Exterior dimensions: H: 59 inches x W: 36 inches x D: 25 inches (26.5 inches including the handle and hinges). Interior dimensions: H: 55.75 inches x W: 33.5 inches x D: 18.5 inches.
The external volume is 30.73 cubic feet and the internal volume is 19.99 cubic feet.
If you have any questions regarding the Tracker M32 Gun & Rifle Safe, please give us a call at 800-207-2259 today!
DOOR SECURITY
5" Thick Composite Steel Door with 11 gauge steel(3mm)
12 x 1.25" Diameter Steel Locking Bolts: Full Door Coverage (Location on the Door: 2 up, 2 down, 5 non-hinge side, 3 dead on hinge side)
Re-locker pin equipped to protect against lock tampering
Drill resistant hard plate to protect the lock against drill attacks
Attack resistant external hinges that allow the door to open 200 degrees, unlike safes with internal hinges
BODY SECURITY
Heavy 11 gauge steel (3mm)
Welded Body
4 pre-drilled holes on bottom of safe for anchoring to floor(mounting hardware for concrete included)
COMMERCIAL GRADE LOCKS (YOUR CHOICE)
La Gard Group 2 Mechanical Dial Lock in chrome, EMP proof lock (made in China)

La Gard Basic II (UL listed) High Security Electronic Lock in chrome (made in USA)
FIRE RATING
60 minutes at 1250 degrees F
Heat activated door seal (expands 5 times it's thickness)
Two layers of fireboard insulation in the body walls, floor, and ceiling
Three layers of fireboard insulation in the door
External door hinges allow for full fireboard protection unlike internal hinges
INTERIOR
32 long gun slots + 2 long guns on door organizer = 34 gun capacity
Internal outlet with 3 standard plug ins and 2 USB ports
Full internal door hanger/organizer, partially customizable
Gray carpeted interior
Adjustable shelving heights/placements
One large upper shelf included
Three small shelves included
EXTERIOR
Black powder coat finish
Chrome plated tri-spoke handle
Chrome plated hinge caps
WARRANTY
Limited Lifetime Warranty against fire or attempted/actual break in.
Liquid error (sections/product-template line 203): Could not find asset snippets/spreadr-reviews.liquid