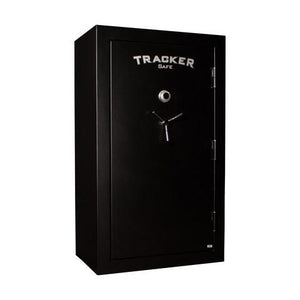 Tracker Safe M45 Gun & Rifle Safe
Regular price $2,520.00 $2,060.00 Sale
Tracker Safe M45 Gun & Rifle Safe
The Tracker Safe Model M45 has excellent space for up to 47 long guns. There are 45 long gun slots in the safe and another 2 in the organizer door.
The interior can be configured in many ways to accommodate your needs. The M45 has two large upper shelves and six smaller shelves that can be adjusted for placement or height.
The door's interior is an organizer that can store your knives, pistols, ammo, and other items. Gray carpeting in the interior cushions and protects your guns.
Security begins with the black powder coated finish exterior that sports a chrome tri-spoke handle and chrome plated hinge caps. The 5 inch thick steel door is made with 11 gauge steel (3 mm). It has 16 x 1.25 inch diameter steel locking bolts that offer full door coverage, with 2 up, 2 down, 7 on the non-hinged side, and 5 dead on the hinge side.
A re-locker pin assists with protection against lock tampering, and there is a hard plate that protects the lock from drill attacks. The external hinges allow the door to open a full 200 degrees.
The welded-body, 1000 pound M45 gun safe is made from heavy 11 gauge steel (3 mm). It has 4 pre-drilled holes so that you can anchor it to flooring. The best choice for flooring to anchor your safe is concrete, so concrete mounting hardware is included.
For locking your safe, you can choose one of two commercial grade locks. The chrome LaGard Group 2 mechanical dial lock, which is EMP-proof, is made in China. Your other choice is the LaGard Basic II, which is UL listed, and is a chrome high security electronic lock made in the USA.
Fire is always a concern for homeowners, and the M45 gun safe protects the guns and other items stored in it for up to 60 minutes at 1250 degrees Fahrenheit. It has a heat-activated seal that expands 5 times its thickness to protect the contents beyond the door.
Two layers of fireboard insulation protect the gun safe‰۪s body, including its walls, flooring, and ceiling. Three layers of fireboard insulation protect the door. Full fireboard protection includes the external hinges. Tracker Safes offers a Full Lifetime Warranty against fire, burglary and attempted burglary.
The exterior dimensions of the M45: H: 72 inches x W: 42 inches x D: 27 inches (which increases to 28.5 when you include the handle and hinges).
Interior dimensions: HL 68.5 inches x W: 39.5 inches x D: 21 inches. Exterior volume is 47.25 cubic feet, and internal volume is 22.8 cubic feet.
If you have any questions regarding the Tracker M45 Gun & Rifle Safe, please give us a call at 800-207-2259 today!
DOOR SECURITY
5" Thick Composite Steel Door with 11 gauge steel(3mm)
16 x 1.25" Diameter Steel Locking Bolts: Full Door Coverage (Location on the Door: 2 up, 2 down, 7 non-hinge side, 5 dead on hinge side)
Re-locker pin equipped to protect against lock tampering
Drill resistant hard plate to protect the lock against drill attacks
Attack resistant external hinges that allow the door to open 200 degrees, unlike safes with internal hinges
BODY SECURITY
Heavy 11 gauge steel (3mm)
Welded Body
4 pre-drilled holes on bottom of safe for anchoring to floor(mounting hardware for concrete included)
COMMERCIAL GRADE LOCKS (YOUR CHOICE)
La Gard Group 2 Mechanical Dial Lock in chrome, EMP proof lock (made in China)

La Gard Basic II (UL listed) High Security Electronic Lock in chrome (made in USA)
FIRE RATING
60 minutes at 1250 degrees F
Heat activated door seal (expands 5 times it's thickness)
Two layers of fireboard insulation in the body walls, floor, and ceiling
Three layers of fireboard insulation in the door
External door hinges allow for full fireboard protection unlike internal hinges
INTERIOR
45 long gun slots + 2 long guns on door organizer =47 gun capacity
Internal outlet with 3 standard plug ins and 2 USB ports
Full internal door hanger/organizer, partially customizable
Gray carpeted interior
Adjustable shelving heights/placements
Two large upper shelf included
SixåÊsmall shelves included
EXTERIOR
Black powder coat finish
Chrome plated tri-spoke handle
Chrome plated hinge caps
WARRANTY
Limited Lifetime Warranty against fire or attempted/actual break in.
Liquid error (sections/product-template line 203): Could not find asset snippets/spreadr-reviews.liquid